Legislation not the answer to the future of public policy, says Lord O'Donnell
Release Date 06 December 2012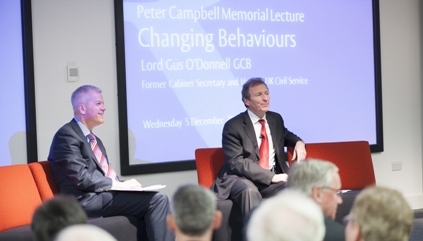 Lord Gus O'Donnell, until recently the UK's most senior civil servant, told a large audience at the University of Reading that governments needed to look beyond legislation in order to change public behaviours that will help reduce Government expenditure and improve well-being.
Delivering the University's Peter Campbell Memorial Lecture (5 December 2012), he outlined the benefits that innovative public policy initiatives could make to have more effective outcomes on behaviour than legislation.
Lord O'Donnell said: "Governments are in the behaviour change game and have been for a very long time. Politicians have a bias towards legislation as an answer to issues but there are many ways beyond legislation in which public policy can influence behaviour. Many of them don't involve Government doing much."
He detailed ways in which governments are already influencing behaviour, with some significant results. These include using peer influence, making the taking part in initiatives important to the individual rather than being told by Government that it is good for them, making the norms of behaviour appear fun, using non-government messengers and priming people to be more honest, for example, at the beginning of the process of filling in their tax declarations. "Many of these initiatives bring positive fiscal results for governments as well as improvements to well-being," he said.
Talking about the impact of welfare spend on UK Government budgets at a time of economic deficit, Lord O'Donnell said; "The British public are now less accepting of welfare dependence. We still expect the state to help us get back on our feet but we need to get people off dependency otherwise there is a downward spiral and society cannot afford the consequences. "
Lord Gus O'Donnell CB, KCB and GCB was Cabinet Secretary and Head of Civil Service from 2005 to 2011. He was appointed to the House of Lords in January 2012, upon leaving the civil service. He played a leading role in the preparations for the 2010 election which eventually resulted in the formation of the UK's first coalition government since World War II. Prior to his role as Cabinet Secretary, he served as Permanent Secretary of the UK Treasury from 2002 -2005 and as press secretary to Prime Minister John Major from 1990-1994.
Lord O'Donnell was giving the Peter Campbell Memorial Lecture, which is hosted by the Department of Politics and International Relations at the University of Reading.
ENDS