Languages evolved to prevent us communicating, writes Professor Pagel in New Scientist this week
Release Date 07 December 2012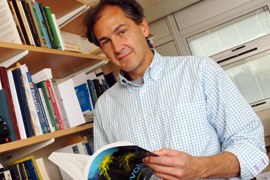 Languages have acted as a powerful social anchor of our tribal identity throughout modern human history, but between 30 and 50 languages are being lost every year as the inhabitants of small tribal societies adopt majority languages. It is inevitable that eventually there will be one single language. So concludes Mark Pagel, Professor of Evolutionary Biology, in his article, War of Words, in this week's New Scientist.
Drawing on his ERC research project on the evolution of language and material from his recent book, Wired for Culture, Professor Pagel explains in the article how languages have evolved since modern humans emerged in Africa 200,000 years ago and why today's 7000 languages are probably a fraction of those spoken throughout that history.
His research has demonstrated that the greatest diversity in human societies and languages has arisen where people are most closely packed together, near to the equator, rather than when they are geographically scattered, as might be expected. As an example, he points to Papua New Guinea, which is a relatively small country but home to 15% of the languages spoken across the world. Why, he asks, would people living so close together have become incapable of talking to one another?
He points to continual battles in human history as a reason for linguistic diversity. In the New Scientist article he says; "We have acquired a suite of traits that help our own particular group to outcompete the others. Two traits that stand out are 'groupishness' - affiliating with people with whom you share a distinct identity - and xenophobia... In this context, languages act as powerful social anchors of our tribal identity."
He cites, as evidence, anthropological accounts of tribes deciding to change their language, with immediate effect, to distinguish them from neighbouring groups, and in modern times, the differences between American and British English.
The rate of loss of languages in modern times exceeds that of biological diversity decline, he says. Globalisation and electronic communication is creating cultural homogeneity, which will inevitably lead to a "mass extinction of languages to rival the great biological extinctions in Earth's past." However, this trend is happening more slowly than it could due to the psychological role language plays in identity. Foreign words are still sometimes viewed with suspicion and nationalist agendas foster policies to save dying languages. In the long-run, however, "it seems virtually inevitable that a single language will replace all others....English is already the worldwide linguafranca, so if I had to put money on one language, this would be it."
His article War of Words appeared in New Scientist (8 December 2012) and draws on material from his ERC research project and recent book, Wired for Culture, Origins of the Human Social Mind (Penguin UK). Mark Pagel is a Fellow of the Royal Society and Professor of Evolutionary Biology at the University of Reading.
Hear more on Professor Pagel's research in his BBC Radio Free thinking Talk "Evolution and Humanity - What Next?"