Reading undergrads reap rewards in unique research programme
Release Date 07 December 2012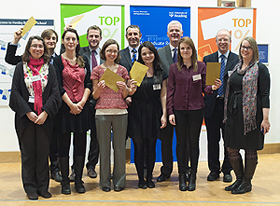 Over 50 University of Reading undergraduates have benefitted from a unique research experience scheme which was celebrated at an awards ceremony last week.
The University's Undergraduate Research Opportunities Programme (UROP) provided the students with the chance to work with leading academic staff on research projects across the University.
As well as enhancing students' skill-sets and employability, UROP encourages students to think about a research career. Talented and highly motivated researchers are vital to the future of the UK's economic competitiveness, well-being and international reputation for innovation.
Reading is one of only three UK universities that offer a UROP scheme, along with Cambridge and Imperial College. Uniquely however, Reading's scheme is open to students from all disciplines including arts, humanities and social science degrees. Undergraduates receive a bursary of £1,200 under the scheme, which takes place during the summer break.
Each student created a poster to showcase their research project. Head of Communications at Research Councils UK, Alexandra Saxon, and University of Reading Vice-Chancellor Sir David Bell chose the joint winners. Third year environmental and countryside management student Patrick Ingle Finch and Rosie Knight, who is in her third year studying history and English literature, each received a prize of £200. Prizes of £150 were also given to students with the best presentation from each faculty.
Patrick worked on a project which evaluated the effect of agroforestry (agricultural systems which combine trees with crops or livestock) on pollinating insects.
Patrick said: "Taking part in the programme and winning a prize for my research has made me even more motivated to continue on to postgraduate education. Several staff members at the Centre for Agri-Environmental Research are amongst the leading figures of pollinator research in Europe and it was a privilege to feel part of their team during the summer."
Rosie joined the UROP programme to further her research skills for a project on a particular form of slavery for women that has not thoroughly been researched by other historians.
Rosie said: "I would definitely recommend the programme to other students. I have developed so many skills in primary and secondary research, as well as in writing which have helped improve my academic performance this year immeasurably. I'm planning to continue my studies and do a PHD in history so the programme was the ideal way to prepare myself for the next stage of study."
As well as making a significant contribution to students' transferable skills and employability UROP is also helping to plug the current UK skills gap.
Alexandra Saxon, from Research Councils UK, said: "The UK's world leading research sector plays a vital part in the economy and wellbeing of the nation. Ensuring that undergraduates have an opportunity to experience what being a researcher is like is crucial in inspiring the next generation to follow research careers and gain the skills that will help them to contribute to the future growth prosperity and wellbeing of the UK.
"The standard this year was exceptionally high. Both Rosie and Patrick, the overall winners, managed to communicate complex research areas in an accessible way which bought their research to life for a non-expert audience."
Find out more about the University of Reading's UROP scheme and postgraduate study
Undergraduate Research Opportunities Programme (UROP) Awards 2012