Congratulations to our graduating students and our own Olympians
Release Date 13 December 2012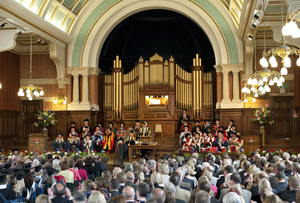 Congratulations to all University of Reading students who are graduating from the University this week.
Once again, the Graduation ceremonies are being streamed live online for family and friends not able to attend the ceremonies.
Watch Graduation live online >>>
Sir David Bell, Vice-Chancellor of the University of Reading, said: "Graduation is always a special time at the University of Reading when we recognise the talent, hard work and success of our students as they conclude their studies at one of the world's top 1% of universities. Congratulations to everyone graduating this week.
"2012 has been a very special year for the UK and for this University, in particular. We were delighted to play our part in Her Majesty's Diamond Jubilee by hosting one of the garden parties at our Greenlands campus. We are also tremendously proud of the participation and success of our students, both current and former, at this summer's Olympics."
The 2,000 students graduating this week have completed a wide range of postgraduate qualifications including PhDs, MScs, MAs, PGCEs, MBAs, as well as other qualifications, including those graduating with a BA in Education.
Postgraduate studies are a vital part of University life at Reading, representing almost half of the total student population. Postgraduate students have access to inspiring teaching and innovative research, world-class researchers, a wide variety of student-centred teaching methods, a highly supportive learning environment and an inclusive, international culture.
The University has also recognised the achievements of students and former students as part of this summer's London Olympics.
Graduation is taking place in the Great Hall at the historic London Road campus on Thursday 13 and Friday 14 December. On Friday 14 December, former University of Reading Vice-Chancellor, Professor Gordon Marshall, will be made an Honorary Graduate of the University of Reading in recognition of his immense contribution to the University, which he led between 2003 and 2011.
Information for graduating students and guests is available on the Graduation website >>>