University of Reading's own Olympic heroes recognised at graduation
Release Date 13 December 2012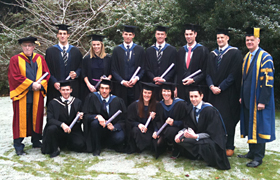 Over 2,000 University of Reading students graduating from the University this week were joined by eleven University of Reading Olympians, as well as the designer of the London 2012 Olympic medals.
The University honoured all of Reading's Olympians, making them Distinguished Fellows of the University of Reading in recognition of their extraordinary contributions to a wonderful sporting summer.
Sir David Bell, Vice-Chancellor of the University of Reading, said: "Graduation is always a special time at the University of Reading as we recognise the talent, hard work and success of our students as they conclude their studies at one of the world's top 1% of universities.
"2012 has been a very special year for the UK and for this University, in particular. We were delighted to play our part in Her Majesty's Diamond Jubilee by hosting one of the garden parties at our Greenlands campus. We are also tremendously proud of the participation and success of our students, both current and former, at this summer's Olympics. On behalf of the University, it is an honour and a privilege to be able to recognise their efforts, alongside those of our graduating students."
The following were made Distinguished Fellows of the University:
David Watkins, designer of the London 2012 Olympic medals (BA in Fine Art in 1963)
Anna Watkins - rower and Gold medallist (current Mathematics PhD student)
Bill Lucas - rower (BA Politics and International Relations 2009)
Charles Cousins - rower (BSc Psychology 2010)
Natasha Townsend - rower (BA Art 2007)
Ric Egington - rower and Bronze medallist (BSc Zoology 2001)
Sam Townsend - rower (BSc Rural Environmental Sciences 2010)
Debbie Flood - rower (BSc Physiology and Biochemistry 2005)
Alex Gregory - rower and Gold medallist (BSc Geography 2001)
Alex Partridge - rower and Bronze medallist (current Henley Business School MBA student)
Adam Freeman-Pask - rower (current PhD student in Biological Sciences)
Jonty Clarke - hockey player (BA Economics 2002)