Vice-Chancellor announces £500,000 raised at Berkshire Philanthropy Fellowship launch
Release Date 10 December 2012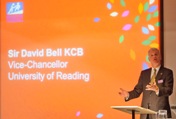 University of Reading Vice-Chancellor, Sir David Bell, announced that a total of £500,000 has been raised across the four Thames Valley Community Foundations following the Royal Henley Jubilee Garden party in June.
Berkshire raised £180k of the Jubilee fund which was inspired by the Queen's dedication to community service and charity work over the past 60 years. The money raised will be used to build a better future for all who live or work in the county and will address local needs such as social isolation, exclusion and deprivation, and support activities and initiatives which benefit Berkshire communities and local individuals.
Sir David Bell, Vice-Chancellor of the University of Reading, said; "Earlier this year, we were delighted to host the wonderful Diamond Jubilee celebration event at our Henley campus which kick started a remarkable fundraising appeal. This evening, it has been our privilege to host Berkshire Community Foundation's Celebration of Local Philanthropy and to herald the fantastic achievement of raising over £500,000 across the Thames Valley."
This fantastic achievement was announced at Berkshire Community Foundations Celebration of Local Philanthropy event at the Henley Business School to launch their Berkshire Philanthropy Fellowship - a network of community philanthropists set up to inspire a greater culture of philanthropy in Berkshire. The Fellowship hopes to bring together philanthopists wanting to connect to their communities and address some of the most pressing social needs across the county.