Olympic hopefuls gather for Head of the River Race
Release Date 21 February 2012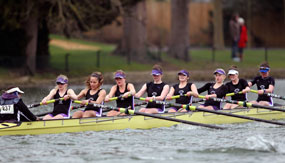 The University of Reading's prestigious annual 'Head of the River Race' is due to be held on the River Thames in Reading on Saturday 25 February.
More than 2,000 spectators are expected to line the banks of the Thames to watch some fantastic racing. With the Olympics looming, crews will be pushing as hard as possible to draw the attention of the Great Britain coaches.
The University of Reading Boat Club (RUBC) women's 8 comes to the event newly crowned as the fastest University women's crew in the country, recently retaining the British University Head of the River title in Peterborough.
Competitors include U23 international, Caragh McMurtry from the University of Reading, who received the John Nike scholarship for sporting performance, many of the rest of the 8 are University scholarship students.
Also among the 240 boats entered, are the top schools in the country including Eton, Radley, Abingdon and Shrewsbury. Local schools are also putting in strong crews, including Shiplake & Reading Blue Coat.
Now in its 77th year, the race has been run by the students of Reading University Boat Club (RUBC) since 1935 and is not only the largest student-run public sporting event in the country, but also the fourth oldest and largest head of the river race. The picturesque course follows the river downstream on the six kilometer stretch between Mapledurham and Caversham Locks, one of the best reaches of the middle Thames.

University of Reading Director of Rowing Will Rand says the day promises to be extremely exciting: "2012 being an Olympic year means this year's race takes on even more significance. Hopefully a large crowd will gather to watch and cheer on some of the best rowing talent this country has to offer."

The first race starts at 10:30am at the Roebuck Ferry Crossing, Tilehurst, and finishes opposite the Reading University Boathouses in Caversham, a distance of around 4.6 kilometers.