Engineer honoured for work with electronic devices
Release Date 22 February 2012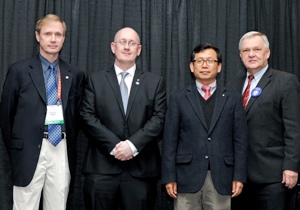 A University of Reading engineer has been recognised by his peers for his work helping to develop the latest electronic consumer gadgets.
Eur Ing Dr Simon Sherratt, from the University's School of Systems Engineering, has been elevated as a Fellow of the Institute of Electrical and Electronics Engineers (IEEE), the world's leading professional association for technology.
Simon was just one of eight new Fellows from the UK and Ireland to be created this year. While the IEEE has 385,000 members across the world, fewer than 1 in 1,000 are elevated as Fellows, the highest grade of membership in the organisation, from among their number.
The Institute's Board of Directors conferred the honour on Simon 'for contributions to embedded signal processing in consumer electronic devices and products', specifically for his contributions to signal processing for Digital TV set-top-boxes and systems development of Wireless-USB.
For a Fellowship to be confirmed, recipients have to be nominated by fellow engineers, have at least five references from other Fellows, and successfully pass through two tough International peer review selections.
His investiture took place at an IEEE event in Las Vegas earlier this month, a conference that Simon chaired himself three years ago. He is already a Fellow of the Institute of Engineering and Technology and a Fellow of the Higher Education Academy.
As well as his work as a senior lecturer and the Director of Teaching and Learning in the School of Systems Engineering at Reading, Simon already has a senior position within the IEEE hierarchy as Editor-in-Chief of the IEEE Transactions on Consumer Electronics journal.
Simon said: "I am thrilled to have been honoured in this way by my colleagues from all around the world.
"Our work within this field may sometimes appear to be complicated, and indeed is often embedded into products such that the user is not even aware it exists.
"Gadget users are constantly pushing for more data, better TV pictures, even when they are mobile, and Internet connectivity anywhere, but all these features can only be enabled with sophisticated signal processing inside the devices. As anyone with a mobile phone in their pocket - in other words, anyone - will tell you, we are increasingly dependent on such technology in our day-to-day lives.
"It's critical therefore that as a society we continue to understand, innovate and develop new technologies, with the intention of making a real difference to people's lives."
Ends
Notes to Editors
The University of Reading is ranked among the top 1% of universities in the world, and is in the top 20 universities in the UK for research funding.
The School of Systems Engineering at the University of Reading brings together a mix of expertise in information technology, computer science, cybernetics and electronic engineering. Its research groups maintain worldwide reputations for theoretical and applied research in a wide range of computing and engineering specialities and seek collaborations that allow it to apply their understanding to aspects of security, health technology, digital society, and energy and environment.
The IEEE is a leading authority on a wide variety of areas ranging from aerospace systems, computers and telecommunications to biomedical engineering, electric power and consumer electronics.