Centre for Euro-Asian Studies welcomes Kazakhstan Ambassador
Release Date 24 February 2012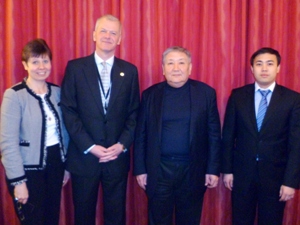 The University's global links were highlighted this week when the Centre for Euro-Asian Studies (CEAS) played host to the Kazakhstan Ambassador to Britain.
His Excellency Kairat Abusseitov, Ambassador of the Republic of Kazakhstan to the UK, gave a lecture on the subject: 'Doing business in Kazakhstan - 20 years on', at the University of Reading on 22 February 2012.
The lecture was organised by Professor Yelena Kalyuzhnova, Head of CEAS and Professor of Economics at the School of Politics, Economics and International Relations.
Reading's Vice-Chancellor Sir David Bell attended the lecture and participated in the question and answer session afterwards, along with students from the School of Politics, Economics and International Relations.
The seminar was followed by a dinner at the University's Blandfords restaurant at Park House, hosted by the Vice-Chancellor, where guests and staff continued their discussions on Kazakhstan's future within the international community.
The event also provided an excellent opportunity for the Vice-Chancellor and the Ambassador to discuss areas of academic collaboration between the University and Kazakhstan.
Professor Kalyuzhnova said: "We are very grateful to Ambassador Abusseitov for kindly agreeing to speak at one of the Centre for Euro-Asian Studies' regular events.
"The Centre for Euro-Asian Studies at the University of Reading has been leading the way in increasing understanding in the countries of the former Eastern Bloc for more than 15 years. During this time, the region has become ever more complex and strategically important, as countries continue their transition amid the legacy of the Soviet Union.
"With issues such as development of democracy, energy security and foreign investment in the region having a huge impact worldwide, we need now more than ever to increase our academic links to deepen our understanding of this crucial region where East meets West."
Ends
For more details, contact Pete Castle, University of Reading press officer on 0118 378 7391 or p.castle@reading.ac.uk.
Established in 1996, the Centre for Euro-Asian Studies (CEAS) at the University of Reading has earned a worldwide reputation for its unique expertise and leading research into Euro-Asian countries. The Centre includes more than 30 professors and prominent academics working in politics, economics and security of the countries of the former Soviet Union and Central and Eastern Europe, with representatives in 14 countries. The centre carried out consultancy work and holds regular conferences to provide a forum in which professionals can discuss and share information and strategies for success in these areas.
The University of Reading is ranked among the top 1% of universities in the world, and is in the top 20 universities in the UK for research funding.