New UK/Indian partnerships mean enhanced experience for university students
Release Date 24 February 2012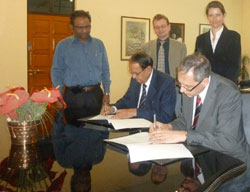 A delegation from the University of Reading has recently returned from a visit to India that's paved the way for an even stronger experience for its students and staff.
The group of academics met with VIPs from four higher-education institutions in India to discuss teaching and learning collaborations that will benefit all partners.
Professor Steve Mithen, Pro-Vice-Chancellor for International and External Engagement and Mahesh Yanambakkam from the University visited SRM University in Chennai. They discussed a potential teaching partnership in Food Science, one area Reading excels in, and Reading's PhD partnership scheme.
They were then joined by Professor Hugo Tucker, Dean of the Faculty of Arts, Humanities and Social Science, and Dr Anne Thies from the University's internationally renowned School of Law, to visit three of the most prestigious law schools in India: the National Law School in Bangalore, NALSAR in Hyderabad, and New Law College in Pune. Discussions focussed on future joint postgraduate and undergraduate degrees programmes, study and work placements as well as staff exchanges.
Professor Veer Singh, Vice-Chancellor at NALSAR said: "We were delighted to welcome delegates from University of Reading, UK and look forward to working closely with them in the future."
In Pune, the delegation visited the Foundation for Liberal Arts and Management Education. Talks centred on the development of collaborative teaching partnerships, notably in Film & Theatre, Economics and Law.
The delegation also visited the prestigious Bharati Vidyapeth University and its Law School to take forward discussions over future partnership arrangements.
Professor Steve Mithen said: "The University of Reading has a proud history of developing successful collaborations in India. We very much enjoyed meeting potential partners as well as renewing acquaintances with colleagues abroad. These new partnerships will promote the exchange of excellence and ideas, and develop new study and teaching opportunities for all institutions.
Ends
Further press information from James Barr, University of Reading press office, 0118 378 7115.
Notes for Editors
The University of Reading is in the top 1% of universities in the world (Times Higher Education World University Rankings 2011-12) and is one of the top rated research-intensive universities in the UK.