Women's eight fastest university rowing crew in the country!
Release Date 28 February 2012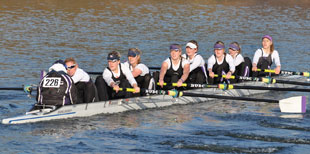 The University of Reading's women's eight crew confirmed they are the fastest women's university eight in the country by defending their WIM1 title at this year's Head of the River race.
Over 250 crews took part in Saturday's event which has been run by the students of Reading University Boat Club (RUBC) since 1935. It is not only the largest student-run public sporting event in the country but also the fourth oldest and largest head of the river race.
The picturesque course follows the river downstream on the six kilometre stretch between Mapledurham and Caversham Locks, one of the best reaches of the middle Thames. This year's competitors had perfect river conditions while the spectators lining the Thames enjoyed the wonderful sunny weekend weather.
The event attracted crews from all levels of the sport, from novices through to intermediate, senior and elite athletes. Clubs travelled down to the banks of the Thames from as far as Chester and Warwick as well as a number of schools, universities and clubs from London and the Thames Valley.
In the annual battle between RUBC and Reading Rowing Club men's first 8, named the 'Phoenix Trophy', the University came out on top. They covered the course nearly 30 seconds faster than their town rivals. RUBC's men's Captain Oli Tomalin said: "There is good rivalry between the two local clubs and we are really pleased to claim back the Phoenix trophy in such good style. We've been training really hard and it's great to see it paying off."
Oxford Brookes once again put in a strong performance winning the elite eight category as well as the senior and IM2 eight categories. Kings School Chester won the J18 event, making them the fastest school eight at this year's race.
University of Reading Director of Rowing Will Rand said: "This was one of the best races yet. It was fantastic to attract such a strong crowd of spectators and we look forward to welcoming back all those who took part for next year's Head of the River Race.
"2012 being an Olympic year means this year's race took on even more significance. Our women's eight crew are in fantastic form and will hope to uphold their title at this Saturday's Women's Head of the River Race in London, where they are again looking to keep their title of fastest University crew in the country."
RUBC's Olympic hopefuls will be looking to book their places at London 2012 in just over a week's time at the final trials that are being held at Dorney lake, the Olympic rowing venue. Anna Watkins, current maths PhD student will be a strong contender for women's double, which is one of the favoured gold medal boats. Some of the RUBC alumni will also be in action.
Sam Townsend - Men's quad
Bill Lucas - Men's quad
Charles Cousins - Men's quad
Alex Gregory - Men's 4
Ric Egington - Men's 4
Tash Page - Women's 8
Debbie Flood - Women's quad
For more information about RUBC, contact Will Rand, the Director of Rowing at the University of Reading on 07989 972 594 or email w.rand@reading.ac.uk