University celebrates its top students
Release Date 16 January 2012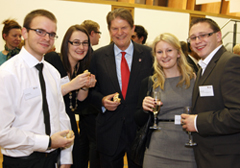 View photographs from the 2011 Chancellor's Awards >>>
The achievements of some of the top University of Reading students were recognised by the Chancellor Sir John Madejski recently at the inaugural Chancellor's Award ceremony.
The event celebrated those students who achieved the highest results in their subject at the end of either their first or second year of study.
80 students gathered for the reception which was hosted by Sir John. Each student received a yearbook with all the winners' names as well as congratulations and encouragement from the University's Chancellor, a successful businessman who founded Auto Trader and is currently Chairman of Reading Football Club.
Sir John said: "The University of Reading offers students a fantastic experience and a first-class environment in which to learn. Those featured in this yearbook represent our brightest and best students from across the University's broad range of academic disciplines. We are extremely proud to be able to showcase such an inspiring group of individuals."
The University of Reading is committed to rewarding and celebrating talent, hard work and achievement across its student community.
Award winner Paulina Ruede who is studying Management and Business Administration said: "Henley Business School at the University of Reading is well known among employers and Reading is ranked as one of the top universities for business studies in the UK. After attending a visit day, it was clear to me that Reading is the place I wanted to study due to the amazing campus and very helpful staff. It's the University's aim to support students and help them to achieve the best results possible, which in my opinion creates a great atmosphere to study."
Nicola Smith who won an award and is studying Biochemistry added: "I came to Reading due to the international vibe and excellent facilities on campus. The area has everything I need on offer and I could not be happier with my final decision to come here."
View the 2011 Chancellor's Award yearbook >>>
Find out about applying to the University of Reading >>>
Ends
For all University of Reading media enquiries please contact James Barr, Press Officer tel. 0118 378 7115 or email j.w.barr@reading.ac.uk