Are traditional farming methods now a thing of the past?
Release Date 12 January 2012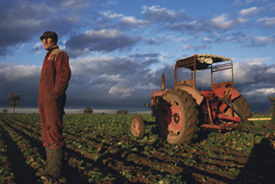 The Museum of English Rural Life (MERL) is to host a stunning new photographic exhibition highlighting how traditional farming methods and knowledge still form a vital part of everyday life.
MERL, which is owned and managed by the University of Reading, will house Field work: photographs from East Anglia, from renowned photographer Justin Partyka. The display runs from 21 January - 22 April and will explore the lives of those whose identity stems from a close relationship with the landscape.
For over ten years Justin has been photographing throughout the East Anglian counties of Norfolk and Suffolk, exploring the rural worlds of rabbit catchers, reed cutters and small-scale agrarian farmers, challenging the ideas of contemporary farming.
Thanks to Arts Council England MERL has commissioned Justin to produce a comparative record of the Berkshire countryside. Over the next two months Justin will be exploring and photographing farms and landscapes around the county leading to a pop up exhibition to be mounted in partnership with 'Jelly' in central Reading in March.
With support from the Earley Charity the local community can join various workshops, while older people in Reading based care homes can contribute their memories and thoughts on Berkshire's changing landscape .
Justin Partyka said: "This exhibition documents and depicts the lives of people who find themselves pushed increasingly to the margins. I have spent many hours in the fields patiently watching how man and the land intimately shape each other, witnessing a way of life that is deeply rooted in the past in an age where industrial agriculture has come to dominate the countryside."
On Tuesday 24 January the local community can join Justin and fellow Norfolk writer and artist Jonathan P. Watts in examining Justin's inspiration and commitment to photographing rural East Anglia. During this 'mardle' slides of Justin's work will reveal how the medium of photography can become a way to explore a sense of place.
MERL's curator Isabel Hughes said: "We are delighted to host Justin's wonderful work. As a major national repository for archives of agriculture and materials relating to the history of rural Berkshire and its people, MERL is the perfect venue for this eye-catching exhibition. I hope the local community enjoy Justin's work and take the opportunity of learning from one an extremely talented photographer through our series of workshops."
Field work: photographs from East Anglia runs from 21 January - 22 April 2012 at the University of Reading's Museum of English Rural Life and is free to attend.
For more information visit Museum of English Rural Life's website or call 0118 378 8660.
Ends
For all media enquiries please contact James Barr, press officer, on 0118 378 7115 or email j.w.barr@reading.ac.uk
Notes for editors:
The Museum of English Rural Life, in Redlands Road, Reading, was founded by the University of Reading in 1951 to reflect and record the changing face of farming and the countryside. It houses designated collections of national importance that span the full range of objects, archives, photographs, film and books. Today, it forms part of the University's Museums and Collections Service. The Museum operates as a major resource and research centre for the history of food, farming and the countryside with links into the School of History and other academic departments at the University.