University scientist wins Royal Astronomical Society award
Release Date 18 January 2012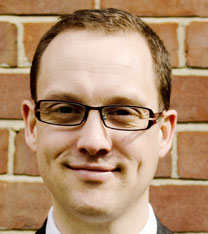 A scientist from the University of Reading has won a prestigious prize for his research which includes revealing the secrets of the Sun's magnetic cycles.
Dr Mathew Owens, from the Department of Meteorology, has been awarded the Fowler Prize by the Royal Astronomical Society (RAS). The awards are given to individuals who have made a particularly noteworthy contribution to Astronomy and Geophysics sciences at an early stage of their research.
Mathew's research includes determining changes in Sun's magnetic field and how this evolves over solar cycles. This plays an important role in understanding how the Sun's energy output has varied in the distance past and may change in the future, which may be vital for Earth's climate.
Dr Owens said: "It's a real honour to be recognised in this way. Being a space physicist in a meteorology department, I'm particularly grateful to receive the Fowler prize, as Peter (the son in the father-son-wife trio after which the prize is named) performed important work in both cosmic ray measurement and meteorology."
Professor Giles Harrison, Head of the Department of Meteorology commented: "The sun has many subtle effects on the atmosphere and we are delighted that Mathew Owen's pioneering work is already receiving such distinguished recognition."
Dr Owens' early research was mainly concerned with the global structure and dynamics of Coronal Mass Ejections (CMEs). These massive eruptions of material and magnetic field from the Sun are known to cause major disturbances in the near-Earth space environment, and understanding their properties is of societal value as well as being a major unsolved scientific problem.
RAS President Professor Roger Davies added: "Dr Owens is a talented solar-terrestrial physicist with an impressive record. I'm delighted that the RAS has recognised his work with the Fowler Award and wish him every success in his future scientific career."
Dr Owens will be presented with the Fowler Prize (£500) at the 2012 National Astronomy Meeting (NAM 2012) that will take place from 27-30 March in Manchester.
Ends
For all media enquiries please contact James Barr, press officer, on 0118 378 7115 or email j.w.barr@reading.ac.uk
Notes for Editors:
The Royal Astronomical Society (RAS, www.ras.org.uk), founded in 1820, encourages and promotes the study of astronomy, solar-system science, geophysics and closely related branches of science. The RAS organizes scientific meetings, publishes international research and review journals, recognizes outstanding achievements by the award of medals and prizes, maintains an extensive library, supports education through grants and outreach activities and represents UK astronomy nationally and internationally. Its more than 3500 members (Fellows), a third based overseas, include scientific researchers in universities, observatories and laboratories as well as historians of astronomy and others.