Grants successes boost international research at Reading
Release Date 20 January 2012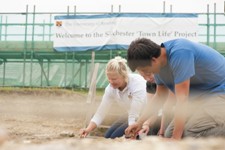 The University has secured more than £5 million in research funding in just two months. The latest round of awards is for projects in both sciences and humanities and reflects Reading's international reputation as a research-intensive university.
Of particular note is a £2.4 million grant from Ofgem to Professor Peter Grindrod, of the University's Centre for Mathematics of Human Behaviour (CMOHB), to help find new ways of managing the existing power grid, in a future where electric cars and micro-generators become more common.
The CMOHB is part of the Department of Mathematics and Statistics at Reading and focuses on data relating to human behaviour rather than statistics around physical and chemical systems, making it almost unique within the UK mathematics community.
Reading has a strong track record in for research into health and Professor Jon Gibbins, of the University's Institute of Cardiovascular and Metabolic Research (ICMR), has received £1.3 million from both the Medical Research Council and the British Heart Foundation for his work on preventing thrombosis.
The ICMR is a multi-disciplinary centre that brings together scientists from a wide range of research fields to work to understand the development of cardiovascular diseases, and the underlying obesity-related diseases from which they develop. Its research looks at both how to prevent strokes or diseases such as diabetes and to develop more effective and safer treatments.
The University has a reputation for its inter-disciplinary work and an example of this is a project by Dr Kate Allen in the Department of Art and Dr Faustina Hwang from the School of Systems Engineering. They have been awarded an Arts and Humanities Research Council grant of £465,673 to create a series of multi-sensory interactive art works that respond to equivalent objects in museum collections, developed through art-based workshops by people with learning disabilities.
Professor Mike Fulford, of the award-wining Department of Archaeology, has received £500,000 by the Leverhulme Trust to further our understanding of Roman Britain. The Department was awarded the Queen's Anniversary Prize 2009 in recognition of its ground-breaking research, enterprise and teaching. Professor Fulford has led the excavation of part of the Roman town of Silchester since 1997 and his new project will focus on other Roman sites.
Dr Slawomir Nasuto, from the School of Systems Engineering, has also received £500,000 from the Engineering and Physical Sciences Research Council for a project to provide innovative music-based therapies for people suffering from stress or affective disorders.
The University's Vice-Chancellor, Sir David Bell, said: "Reading is one of the country's top research-led institutions and is ranked in the top 20 for the number of awards it received from research councils last year out of 218 institutions. Our researchers have the ability to change for the better the world in which we live. Not only that, our students benefit immeasurably from working close to, and with, experts in their respective fields."
Our research is useful, real-world research, which is designed around issues affecting society both in the present and in the future, such as climate change, food security and health. More information can be found at www.reading.ac.uk/research