Bulmershe campus redevelopment plans submitted to council
Release Date 23 January 2012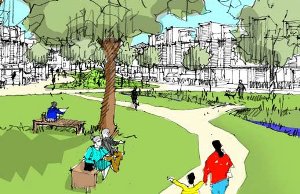 The University of Reading has submitted a planning application for the redevelopment of its Bulmershe campus, which is scheduled to close in summer 2012.
The proposal, which follows a public exhibition on the plans last summer, will replace redundant academic buildings with new homes and convert six of the student accommodation blocks into apartments. The existing playing fields will be retained and enhanced for University and community recreational use and will include a new sports pavilion. There will also be a care home and neighbourhood shop(s) as part of the development.
The University is concentrating its teaching and student accommodation facilities on its main Whiteknights and central Reading London Road campuses. The Department of Film, Theatre and Television has already moved from Bulmershe to its new home in the Minghella Building on Whiteknights and the Institute of Education, which trains many of the region's teachers, has just relocated from Bulmershe to the University's historic London Road campus. The student accommodation at Bulmershe will no longer be required beyond the end of the 2011/12 academic year as replacement accommodation comes on stream on the Whiteknights campus.
Professor Tony Downes, Deputy Vice-Chancellor of the University of Reading, said: "The University of Reading has developed plans for a high-quality residential development for the soon-to-be redundant Bulmershe campus site, which will provide much needed housing for the area and improve the neighbouring playing fields for community and University use. While it will be sad to leave Bulmershe after more than 20 years, we do so in the knowledge that we are investing in the best facilities to train future generations of teachers at London Road and providing the best student accommodation in the sector, conveniently located on our main campus."
The planning application was submitted to Wokingham Borough Council on January 19 2012.
Ends
For further information please contact Pete Castle at the University of Reading press office on 0118 378 7391 or Nick Chancellor at Meeting Place Communications on 07935 546971.
Notes to editors:
The proposal is for 287 housing units, comprising of 84 apartments converted from halls of residence, 15 new apartments and 188 2-5 bedroom homes.
The footprint of the development will reflect the current developed built footprint of the campus.
The playing fields are not part of the development site and will be protected for recreational use.