Positive campaigns help University continue Fairtrade status
Release Date 26 January 2012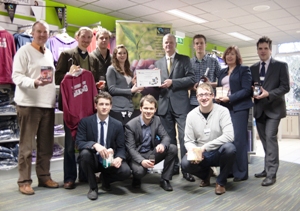 The University of Reading is pleased to have renewed its Fairtrade status today (January 26) for another two years.
The achievement, the third consecutive time the University has been awarded Fairtrade status, was made with the collaboration and support from various departments on campus, including the Chaplaincy, Reading University Students' Union (RUSU) and the University's procurement and catering departments.
The Fairtrade status acknowledges the commitment the University has made to ethical trading by making fairly traded products available to staff, students and members of the public. The University has also been praised for raising awareness of issues surrounding ethical trading and campaigning to raise the understanding of Fairtrade.
Rev Mark Laynesmith, University chaplain and chairman of the Fairtrade steering group, said: "The steering group consists of a range of University staff and external members, who are passionate about ensuring Fairtrade is not forgotten. The group have worked extremely hard to maintain awareness throughout the University campus. In doing this, successful events such as Fairtrade Fortnight, a Fairtrade Fashion Show, debates and tasting sessions have taken place."
Ben Haines, RUSU's Vice-President for Democracy and Campaigns, said: "We are delighted to hear the news about the renewal of the University's Fairtrade status. This is testament to the hard work of the steering group."
Sir David Bell, Vice-Chancellor of the University of Reading, said: "Well done to everyone involved in securing Fairtrade status for the University for a third consecutive time.
"By taking a lead as an institution, we are helping to encourage our students, staff and suppliers to think how they as individuals and organisations can contribute to a fairer society. Making a difference in the real world is at the heart of everything we do here at the University. It's important to remember that we can achieve this not only through education and research, but in how we all make choices in our day-to-day lives."
Ends
For more details contact Pete Castle on 0118 378 7391 or p.castle@reading.ac.uk.
Notes to editors
The University first achieved Fairtrade status, which runs for a two-year period, in 2008.
Fairtrade Fortnight this year will take place from 27th February until 11th March. As part of this, Reading University Fairtrade Society (RUFS), in collaboration with the Women's Campaign, are organising a fashion show to promote the Fairtrade brand and raise awareness of the University's Body Positive campaign. The fashion show, at 7pm on Friday 9 March 2012 at RUSU, Whiteknights Campus, University of Reading, will be open to students, staff and members of the local community. Tickets will be £4 (£3 NUS) on the door. To reserve tickets or more details contact campaigns@rusu.co.uk.