Making the most of Kazakhstan's oil and gas wealth
Release Date 03 July 2012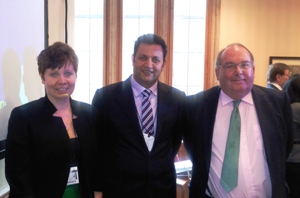 Kazakhstan needs to plan carefully to make the most of its oil and gas wealth, according to a report from the University of Reading's influential Centre for Euro-Asian Studies.
The findings were reported at a seminar at the House of Lords, London, jointly hosted by the British-Kazakh Society and the Centre for Euro-Asian Studies last month, attended by leading businessmen, academics and policy formers from the region.
The government of Kazakhstan is increasingly concerned with ensuring that the country's natural resource endowments generate wider economic benefits, and the policy of local content development - forcing foreign investors to use a certain level of Kazakh-based suppliers - is one of its priorities.
The seminar, 'Local Content Development in Kazakhstan', was the second in a series run by the Centre for Euro-Asian Studies, The University of Reading and Kainar University, Almaty, through the INSPRE strategic partnership research grant of the British Council.
Lord Fraser, chairman of British-Kazakh Society, said: "Reading University deserves great credit for sustaining the Centre for Euro-Asian Studies. Anyone with an interest in Kazakhstan or the Caspian Region knows the Centre now has a reputation second to none."
The keynote speakers at the 21 June seminar were Professor Yelena Kalyuzhnova and Dr Christian Nygaard of the Centre for Euro-Asian Studies, University of Reading, who presented the results of the study, highlighting different opinions of the growth policy within sections of Kazakh society and regional variations across the country.
Other speakers included Ms Calliope Webber, Director of Greengold Ltd, Mr Boris Aronstein, President at TechInput Inc and guests included the Kazakh ambassador to Britain, His Excellency Kaiat Abusseitov, and Dr Askar Syzdykov, director of the Department of Gas Field Development for JSC KazTransGas.
The main findings and conclusions of the discussion were passed to the Kazakh National State Agency on Local Content Development.
ENDS
For more information, contact Pete Castle at the University of Reading press office on 0118 378 7391 or p.castle@reading.ac.uk.
Notes to editors
Established in 1996, the Centre for Euro-Asian Studies (CEAS) at the University of Reading has earned a worldwide reputation for its unique expertise and leading research into Euro-Asian countries. The Centre includes more than 30 professors and prominent academics working in politics, economics and security of the countries of the former Soviet Union and Central and Eastern Europe, with representatives in 14 countries. The centre carries out consultancy work and holds regular conferences to provide a forum in which professionals can discuss and share information and strategies for success in these areas.
The University of Reading is a leading research-intensive university ranked among the top 1% of universities in the world and among the top 25 universities in the UK.