British Army officer killed in Afghanistan honoured by University of Reading
Release Date 06 July 2012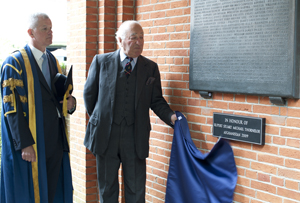 The University of Reading has paid tribute to the late Lieutenant-Colonel Rupert Thorneloe MBE, a graduate of the University, who died in Afghanistan in 2009.
Members of Rupert's family, including his father Major John Thorneloe and his mother, sister and widow along with Major Guy Stone of the Welsh Guards, who had served alongside Lt-Col Thorneloe were invited to a special ceremony during the University's summer graduation week. A plaque, situated alongside the University's existing war memorial under the historic clock tower at the London Road campus, was unveiled in Lt-Col Thorneloe's memory.
Rupert graduated from the University in 1991. He was then commissioned into the British Army and served with great distinction until being killed in action in Afghanistan three years ago. Lt-Col Thorneloe is the highest-ranking British Army officer to be killed in action since Lt Col 'H'. Jones's death in 1982 during the Falklands War.
Sir David Bell, Vice-Chancellor of the University of Reading said: "We are proud and honoured that Rupert was a graduate of this university and of his outstanding service to this country. He made the ultimate sacrifice. It is only right, therefore, that we recognise that contribution so that future generations of students and staff acknowledge that sacrifice as they walk through this beautiful campus."
Lt Colonel Thorneloe's name joins those of 144 others from the University of Reading who gave their lives in the service of their country. The Welsh slate plaque was designed and the lettering cut, by hand, by Wayne Hart, a graduate of the University's Department of Typography & Graphic Communication.
Major Thorneloe said: "Rupert would feel enormously honoured that the University of Reading should remember him in this way. He was extremely happy here, that I remember so well. Rupert often told me that what the University had taught him helped him enormously in his career. He was taught to work hard, get the best out of life and be the best he could possibly be."
ENDS