Reading students win plaudits in car maker's marketing project
Release Date 10 July 2012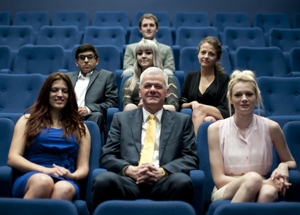 A team of students from the University of Reading has helped Spanish car maker SEAT put a new perspective on its brand as part of a unique marketing project.
The seven-strong team's content was chosen from ten rival universities across the UK to win the opportunity to help the car maker see itself from a different perspective and engage with its target audience in a new and exciting way.
After an intensive immersion day at the design-driven company, the students, all from a variety of different academic backgrounds - Aurelija Stankunaite, Robbie McKane, Charlotte Hobday, Calum Peters, Deborah Reid, Lydia Taylor and James Green - were invited to pitch their ideas to a panel of SEAT executives and some of the biggest media agencies in the UK.
Chris Stevens, Head of Marketing at SEAT UK, said: "We wanted to work with some of the country's brightest young creative thinkers to see ourselves from a totally different perspective and engage with the wider public in a whole new way.
"Allowing a group of unknown university students free rein to play with our brand identity - one of our most valuable assets - was a risky undertaking, but we were absolutely thrilled with the originality and energy of the work produced. In the case of the Reading team, we were delighted and very impressed with the content they produced and we hope to be able to incorporate it into our future marketing and promotional activities."
Of the ten competing universities, five were shortlisted to receive a £5,000 budget and complete artistic freedom to bring their creative vision of the SEAT brand identity to life, in the form of high quality video content. The Reading team was among the five chosen and one of two chosen to be featured soon on the SEAT.co.uk website and official YouTube channel.
Reading's team produced three short films, which judges said were brilliantly conceived and executed and perfectly encapsulated the philosophy behind SEAT's new 'Enjoyneering' slogan, while being targeted at different demographics.
One film follows a day in the life of a mischievous lecturer and his family, using vehicles from Reading SEAT dealership Emmer Green. The second video, aimed at a younger audience, shows a spirited toddler laying a track and guiding his toy train around his home. The final video, featuring music by up-and-coming band Run Young Lovers, shows a couple play fighting with red paint as they decorate their home.
SEAT bosses were so impressed by the strength of the Reading team's creative concepts and the quality of their finished films they have entered into a three-year partnership with the University, which will offer the same opportunity to future groups of students.
Dr Lisa Purse, from the University of Reading's Department of Film, Theatre and Television, said: "The achievement of the students is testament not just to their energy and creativity but to the skills they have developed during their degrees at the University of Reading. I am particularly pleased that the team were able to draw on the excellent video production and post production facilities that the Department of Film, Theatre and Television's new Minghella building has to offer."
Stuart Morris, Lecturer in Entrepreneurship at Henley Business School at the University of Reading, said: "This wonderful success demonstrates the entrepreneurial spirit that we foster among our students here at Reading. To succeed in business, and in life, requires the ability to seize the moment, and this talented group of students have done just that."
Sir David Bell, Vice-Chancellor of the University of Reading, said: "My congratulations to the students whose magnificent work on this project has been justly rewarded with high praise from the judges. As the son of a railwayman, I particularly enjoyed the short film featuring a small boy letting his imagination run wild with his toy train set.
"At Reading we place a strong emphasis on creativity, collaboration between academic disciplines, and making a difference in the real world, which is why I am delighted but not surprised in the success of this talented group."
ENDS
For more information, contact Pete Castle at the University of Reading press office on 0118 378 7391 or p.castle@reading.ac.uk.
Follow us on Twitter | Like us on Facebook | Read our research blog 'The Forum'
Notes to editors:
Footage from the winning films will be available soon through both the University of Reading and SEAT's websites and YouTube channels. Still images from the two films are available now - please contact the University of Reading press office above for images.
The Department of Film, Theatre and Television is a dynamic and creative department which has been leading its field for over four decades. It pioneered the teaching of film studies in British Higher Education, and has an established world-leading reputation in theatre and television.
The Centre for Entrepreneurship is part of Henley Business School at the University of Reading. The Centre provides a lively hub for teaching and research in the subject, inspiring students from across the University to embrace, develop and apply their entrepreneurial abilities.