Statisticians helping fight against increasing illegal ivory trade
Release Date 25 July 2012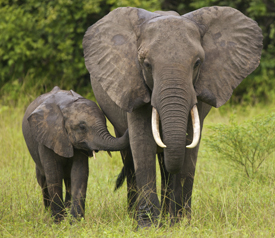 Statisticians from the University of Reading in partnership with TRAFFIC are helping in the global fight against the trade of illegal ivory, with a major revision of the Elephant Trade Information System (ETIS), a global monitoring system for tracking illegal ivory trade.
With elephant poaching levels the worst they have been in a decade, and recorded ivory seizures at their highest levels since 1989, the revised system will give accurate and up-to-date information on the illegal trade of ivory. This will be of huge benefit for international and national policy makers on elephant conservation and on illicit trade who have previously struggled to get reliable and timely data.
At the heart of the upgrade is an innovative new database that allows countries to report seizures of illegal ivory online, making data entry easier and more accurate than ever before. It will also encourage more countries to report illegal ivory trade as they will be able to access statistical summaries of their data and review other seizures where their country is implicated.
The Elephant Trade Information System (ETIS) is one of two systems commissioned by the Convention on International Trade in Endangered Species of Wild Fauna and Flora (CITES), who ensure the survival of wild animals and plants through the monitoring of illegal trade. The new system will be showcased at the CITES Standing Committee, in Geneva on 26 July 2012. Every two to three years, the 175 CITES member countries meet to review the impact of trade on various species to decide whether additional measures which can include international trade bans are necessary.
Bob Burn and Dr Fiona Underwood, statisticians from the University's Department of Mathematics and Statistics, have worked closely with TRAFFIC, the wildlife trade monitoring network mandated by CITES to manage ETIS, to develop the revised system.
Dr Underwood, project leader, said: "We are very pleased that we are able to provide a solid statistical foundation to ETIS to ensure that it provides high quality and timely information on the illegal ivory trade at a crucial time for elephants."
Recording illegal ivory seizures is just the tip of the iceberg however. These crimes go mostly undetected but the monitoring system has an ace up its sleeve as it will now provide indicators of hidden illegal activity.
Applied Statistics Research Fellow Bob Burn, who conceived the current project and has been involved with ETIS since its inception in 1997, said: "Not all illegal ivory transactions are discovered or officially reported. The challenge in analysing seizures data is to adjust for this gap by accounting for factors such as law enforcement effort and corruption. Using cutting edge statistical methods the monitoring system can now begin to combat this problem."
The statistical analyses will provide information on how patterns of illegal trade are changing over time and will identify problem countries so that attention can be focused upon those countries most heavily implicated in illicit commerce. This provides crucial evidence for CITES and individual governments in their decision making when it comes to elephant conservation.
The new system will be showcased at the CITES Standing Committee, in Geneva on 26 July 2012. In attendance will be representatives from many of the CITES Parties who will use the system. They will witness the functionality and the effectiveness of the database by way of a demonstration, before its launch in September 2012.
The work was carried out under a Darwin Initiative project, led by the University of Reading, funded by the Department of Environment, Food and Rural Affairs (DEFRA).
Environment Minister Richard Benyon said: "These magnificent creatures are suffering horrific deaths at the hands of poachers, and if we don't act now they may not have a future. This database, funded by Defra's Darwin Initiative, will accurately record illegal ivory seizures so we get a real picture of what is happening on the ground. This information can be shared around the world to help stop the illegal trade in ivory and put poachers out of business."
Tom Milliken, ETIS director, from TRAFFIC added: "Since 1997, our long-term collaboration with Bob Burn and Dr Fiona Underwood from the University of Reading has progressively scaled up the science behind ETIS and made it a 'best practice', state-of-the-art monitoring tool for the global conservation community. TRAFFIC, but also elephants, trumpet their appreciation to Bob and Fiona and the Darwin Initiative! "
The database was developed in collaboration with Solertium Corporation, USA
ENDS
For all media enquiries please contact James Barr, University of Reading Press Officer on 0118 378 7115 or by email on j.w.barr@reading.ac.uk
Follow us on Twitter | Like us on Facebook | Read our research blog 'The Forum'
Notes for Editors
The University of Reading's Department of Mathematics and Statistics is internationally renowned for both teaching and research in mathematics, statistics and their applications. The Department achieved 94% for Overall Student Satisfaction in the 2011 National Student Survey, while over 85% of its research was rated internationally recognised, internationally excellent, or world class in the most recent (2008) Research Assessment Exercise.
The University of Reading is ranked among the top 1% of universities in the world (THE World University Rankings 2011-12), is among the top 20 universities in the UK for research funding, and according to students has the best campus environment in the UK (THE Student Experience Survey).
The Darwin Initiative, funded by the Department of Environment, Food and Rural Affairs (DEFRA), assists those countries which are rich in biodiversity but poor in financial resources in implementing one or more of the biodiversity conventions specifically CITES, the Convention on Biological Diversity (CBD), and the Convention on the Conservation of Migratory Species of Wild Animals (CMS).
TRAFFIC, a strategic alliance between WWF and IUCN, the International Union for the Conservation of Nature, is the world's leading wildlife trade monitoring organization. The Elephant Trade Information System (ETIS) is managed by TRAFFIC and currently comprises over 18,000 elephant product seizure records from some 90 countries, the largest such collection of data in the world. Statisticians from the University of Reading will assist TRAFFIC in conducting a comprehensive analysis of these data later this year ahead of the 16th meeting of the Conference of the Parties to CITES that takes place in March 2013.