Pupils discover value of science and languages at
University Summer Schools

Release Date 25 July 2012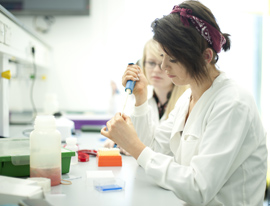 Over 75 students from across the South got a taste of student life at the University of Reading last week when they took part in the institution's annual two-day Summer Schools.
As well as the ever-popular science 'DNA Whodunnit?' event, this year saw the introduction of the University's first ever 'Living Languages' Summer School where AS language students had the opportunity to try their hand at taster classes in different languages alongside academic sessions in aspects of European culture.
Both Summer Schools were attended by sixth formers currently undertaking study in the relevant subject areas and designed to provide participants with an enjoyable but academically challenging experience. The Schools also as gave them an insight into University study and possible careers after they graduate.
Students also got to meet current University of Reading undergraduates and to hear what it's like to be a student at the University, a really important element of the School since most of those attending had no background of higher education in their family.
Students attending the Science Summer School spent the first day getting to grips with biological laboratory techniques and extracting their own DNA. The second day involved them applying the techniques and knowledge to solve a 'murder mystery'. Students also benefited from a tour of the University's Microscopy facilities and sessions illustrating future study in Chemistry and Biology from Dr Elizabeth Page and Dr Phil Dash, academics at the University.
Reactions to the Summer School were extremely positive. "I loved the University and the whole Summer School," said one student. "I really liked the time we had with students and the talks because you got a feel of what it is like to study at University," commented another.
Carey Singleton, Director of Student Recruitment and Outreach said:
"I'm really delighted with the success of the Summer Schools and, in particular, with the numbers attending the events this year. It's been an absolute pleasure to welcome these high-achieving, focused and committed young people to our campus and we hope to meet many more of them in the future when we expand Summer School provision to other subject areas".
ENDS
Schools that attended the University of Reading's 2012 Summer Schools
Queen Mary's College - Basingstoke
Newlands Girls School - Maidenhead
Baylis Court School - Slough
The Willink School - Wokingham Borough
Highsted Grammar School - Sittingbourne, Kent
St Marks Catholic School - Hounslow
The Westgate School - Slough
Salesian Sixth Form - Surrey
Reading College - Reading
Cardinal Wiseman School - Greenford , Middlesex
Lampton School - Hounslow
Chichester College
Guru Nanak Sikh Academy - Hayes, Middlesex
South Wiltshire Grammar School - Wiltshire (Salisbury)
Herschel Grammar School - Slough
The Piggott School - Twyford
Rosebery School - Surrey
Brockenhurst College - Hampshire
Nower Hill Sixth Form - Pinner, Middlesex
Harrow High School - Harrow
The Sixth Form College Farnborough
Lampton School - Hounslow