Join the Jubilee fun at Museum fete this June!
Release Date 01 June 2012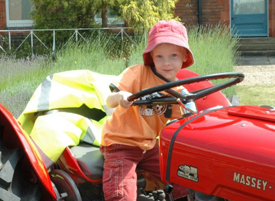 Free craft workshops, morris dancing and pedalling your own smoothies! These are just some of the attractions families can enjoy at this year's Museum of English Rural Life (MERL) Annual Village Fete on Saturday 9 June.
MERL, which is owned and managed by the University, has been hosting the popular event on their Redlands Road site for five years. This year the fete has a special Jubilee theme to coincide with the Queen's 60th anniversary celebrations.
Isabel Hughes, MERL curator, said: "Visitors to this year's fete have the chance to create a bit of history. Have you met the Queen, been to a garden party or seen her on a walkabout? If so, bring your pictures along to the fete and our 'Sense of Place' team will scan them and add them to the Historypin website as part of their 'Pinning the Queen's History' project."
Throughout the day visitors will be entertained by the border morris side Armaleggan who will be joined by the Waltham St Lawrence Silver Band. There'll be activities for all the family, from traditional games to the village stocks, and if you love baking why not enter your favourite cake into the cake competition!
Some of MERL's old friends are returning, including the Newbury and District Agricultural Society, the 5-a-day market and Thames Valley Vintage Tractors. Visitors can also have a unique chance to see a 17thC Sealed Knot bodger demonstrating his pole lathe.
Visitors can enjoy delicious ice-cream, smoothies and 'Janet's Jubilee Teas' served on crockery kindly donated by the public over the last few months. A hog roast with homemade apple sauce will whet the appetite and can we washed down with a local beer or cider served in the 'Jubilee Arms'!
Isabel Hughes added: "We are very excited about this year's village fete which promises to be the best yet. The event is a great family day out and takes place in a stunning setting, the beautiful MERL garden. We look forward to welcoming as many visitors as possible who are guaranteed a fun day out."
Entry to MERL's 2012 Village Fete is £2.50 per adult and free for adults. Gates open at 10am and the fete runs until 4.30pm. All visitors will be entered in to a prize draw to win two adult tickets to the Berkshire Show in September.
For more details, visit the fete website at www.reading.ac.uk/merl/jubileefete
ENDS
For all media enquiries please contact James Barr, press officer, on 0118 378 7115 or email j.w.barr@reading.ac.uk
Notes for editors:
The Museum of English Rural Life, in Redlands Road, Reading, was founded by the University of Reading in 1951 to reflect and record the changing face of farming and the countryside. It houses designated collections of national importance that span the full range of objects, archives, photographs, film and books. Today, it forms part of the University's Museums and Collections Service. The Museum operates as a major resource and research centre for the history of food, farming and the countryside with links into the School of History and other academic departments at the University.