Computer or human – can you tell the difference?
Release Date 18 June 2012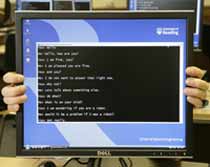 This weekend, the University of Reading will recreate the famous Turing Test at Bletchley Park as part of the celebrations to mark the life and influence of the 20th century mathematician and code-breaker Alan Turing.
This special one-day event, Turing100, will take place on what would have been his 100th birthday, Saturday 23 June 2012.
Turing100, organised by Reading's School of Systems Engineering, is based around Turing's famous question and answer game, commonly known as the Turing Test which investigates whether people can detect if they were talking to machines or humans. The experiments will play a serious role in helping raise awareness of cyber crime using artificial conversation systems to increase the detection rate for online deception and prevent the risk of Internet grooming.
Activities at Turing100 will include robot demonstrations and interactive machine learning programmes specifically aimed at children, and trials of software developed by Lancaster University in its ISIS online child protection experiments.
Following Turing100 is the Turing Education Day, at which a team of speakers will explain the key aspects of Turing's many-sided work to a general audience. Topics covered will include codebreaking, the birth and early development of the computer and computer programming, artificial intelligence, artificial life, and the foundations and philosophy of mathematics.
Although there will be a fee to enter Bletchley Park, there will be no charge to the family-friendly Turing100 event inside the Mansion.
Directions to Bletchley Park at http://www.bletchleypark.org.uk/content/visit/findus.rhtm
ENDS
Dr Huma Shah, from Reading's School of Systems Engineering, is organising the Turing100 event and can be contacted at Turing100atBletchleyPark@gmail.com
For media enquiries please contact Rona Cheeseman on 0118 378 7388 or email r.cheeseman@reading.ac.uk