Volunteers wanted for new garden bird feeding research
Release Date 18 June 2012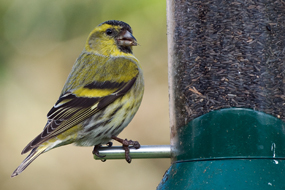 University of Reading scientists are starting a new research project that will examine the impact of feeding garden birds on ecological diversity. In particular the study will assess the effect on the range and numbers of certain insects in gardens which are known to impact on the environment, in areas such as soil health and plant growth.
Over the last two years, ecologists Melanie Orros and Mark Fellowes have been researching some lesser known effects of feeding birds in gardens with the help of local volunteers.
Inspired by these successes, the ecologists are now looking for more local volunteers to help with their latest project. This time they plan to look at some of the beetles living at ground level in gardens and at springtails, a group of smaller insects that mostly live in soil. Springtails are the most abundant insects on Earth and are often used to assess soil quality while beetles, possibly a food source for birds, help keep the nutrient cycle in gardens going by eating seeds.
Melanie said: "We're looking for volunteers in Reading who regularly feed birds and would allow us to trap insects under a bird feeder in their garden and from an area further away for one week each month in early July, August and September 2012. This will allow us to look for differences between the two areas.
Now that we know that feeding birds can affect the number of greenfly on plants close to feeders, we want to look at other insects that are common in gardens to see if they are also affected by bird feeding. It might be that waste seed falling on the floor provides food for seed-eating insects or that birds coming in to use feeders also eat insects living on the ground."
The study will run for one week each month in early July, August and September, with three pitfall traps set under a bird feeder with three more further away. Pitfall traps are plastic drinks cups dug into soil to ground level. The cup contains liquid preservative and is covered to prevent rain and larger animals getting in. Soil samples will also be taken to the lab to look for springtails.
The researchers have recently completed a two-year survey of how much bird food is put out in gardens and the results of 'Do garden birds earn their keep?' were recently published in a scientific journal. This research, featured in BBC Wildlife Magazine, showed that feeding birds can act as a natural form of pest control they reduce the numbers of greenfly on nearby plants.
If you are interested in taking part in the project, please visit www.reading.ac.uk/gardenwatch for more details or email Melanie at gardenwatch@reading.ac.uk
ENDS
For all media enquiries please contact James Barr, University of Reading Press Officer on 0118 378 7115 or by email on j.w.barr@reading.ac.uk
Follow us on Twitter | Like us on Facebook | Read our research blog 'The Forum'