New report celebrates the University's central role in the vitality and growth of the local area
Release Date 19 June 2012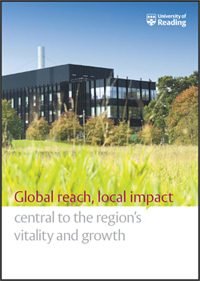 A new report launched by the University of Reading quantifies the financial contribution of the University to the local economy as in excess of £650 million a year, equivalent to £1.75 million a day.
Global reach, local impact examines the impact of the University's expenditure in the local economy, the knock-on or multiplier effects of this spend, and the secondary spend of University staff and students locally. The report also details many of the ways in which the University, its staff and students make contributions to the local community, through, for example, training the regions' teachers, developing the skills of mental health professionals, volunteering and playing active roles in community organisations and playing fulfilling roles in the area after graduation.
Highlights from the report include:
19,000 - the number of Reading graduates living in RG postcodes
£131 million - the University expenditure on staff salaries annually
3,700 staff - the University is one of the area's major employers with over 50% of staff living within a five-mile radius of the University campuses
4,000 jobs - the equivalent number of jobs created in the local area as a direct result of the University's expenditure
£93 million - University students spend off campus locally each year
£60 million - the value of University contracts with local suppliers every year
£34 million - the University's annual research income
£219 million - the University's annual expenditure
1,000 teachers - the number trained by the Institute of Education each year
60,000 local people - the number who attend University public lectures, events or visit University museums every year
£3.5 million - the value of business tourism to the University
4,400 students - the number who have volunteered in local schools in the last 20 years
Sir David Bell, Vice-Chancellor of the University of Reading, said: "We are proud to play such an active and important part in the economic well-being of the area, helping to drive growth in tandem with local business and industry, and generating over £650 million a year for the local economy.
"Beyond our economic impact, the University also makes many other positive contributions locally, such as enabling access to green space, promoting public understanding of academic research and encouraging volunteering. The University of Reading is firmly anchored in Reading, Wokingham and the Thames Valley and we are proud to be an integral part of one of the most successful and dynamic parts of the United Kingdom."
View the online version of the brochure >>>
ENDS
Further information from Alex Brannen, Acting Director of Communications on 0118 378 8005
Follow us on Twitter | Like us on Facebook | Read our research blog 'The Forum'