Happy Days star, Henry Winkler visits the University's Institute of Education
Release Date 21 June 2012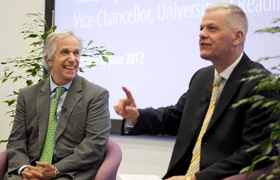 The actor and writer, who made his name playing 'the Fonz' in the popular US comedy set in the fifties, visited the University of Reading's Institute of Education recently during his seventh visit to the UK to promote the awareness of dyslexia and learning difficulties amongst school pupils.
Mr Winkler, 66, visited the National Centre for Language and Literacy (NCLL) on the University's London Road campus where he spoke to Special Needs Educators, researchers from the University and teachers from local schools.
Henry is offical champion for the My Way! Campaign, which is in its third year of raising awareness of children who find learning difficult, helping them to get the understanding and support of the adults and other children around them.
Mr Winkler said: "When I was at school I was classed as the bottom three per cent academically. Every day I struggled with history, I found math hard and I found spelling hard - although I was great at lunch.
"Sometimes the things my teachers said to me were not helpful. I tried really hard but it was just always a struggle. I was aware I wasn't doing well and I certainly didn't need reminding. Teachers are very powerful and what you say to a child will stick like glue."
Mr Winkler was interviewed by the University's Vice-Chancellor, Sir David Bell and staff were given the opportunity to ask him questions.
In reply to a question about the importance of drama in education he replied; "I think it is very important. For some children it is the only way to tell the world who they are and develop a sense of self-worth. Acting - saying someone else's words allows you to get outside of yourself."
The father-of-three found out he was dyslexic aged 31 when he struggled to read scripts after taking on the role of cool leather-clad Arthur Fonzarelli in the 1970s American sitcom. He was awarded an honorary OBE last year for his work with children with special educational needs.
ENDS
Follow us on Twitter | Like us on Facebook | Read our research blog 'The Forum'
Notes for editors:
The Institute of Education at the University of Reading is one of the leading providers of teacher training in the UK. Every year, nearly a thousand students graduate as newly-qualified teachers, and hundreds more qualify at Master's and PhD level. The University has excellent partnership arrangements with over 300 local schools which employ the majority of our national graduates. Graduates from the Institute have an excellent chance of finding employment - 96% of our graduates took up a teaching job last year.
The National Centre for Language and Literacy is the home of an impressive exhibition collection of over 18,000 trade and education publications published during the last five years. NCLL offers a programme of events including one-day courses offering practical support for classroom teachers and literacy co-ordinators, and residential courses for undergraduates and educators from China, Japan and the USA, including teachers of English to young learners, university administrators and headteachers. NCLL is committed to ongoing research in the areas of language and literacy, and staff in the Centre are involved in a number of externally funded projects.