Remember Bomber Command but don't forget the victims of Allied bombing
Release Date 25 June 2012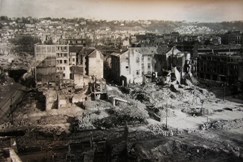 The Blitz and V-weapon attacks killed over 60,000 British civilians during World War II. Almost the same number of French civilians - our 'friends and Allies' according to Foreign Secretary Anthony Eden - died under Allied bombs. In the week the country remembers the bravery of Bomber Command, a new book by a University of Reading researcher aims to remedy the neglect of the innocent victims of Allied bombing during World War II.
On Thursday 28 June, a fitting tribute to the more than 55,000 courageous men of RAF Bomber Command who lost their lives serving their country will be unveiled by Her Majesty The Queen in London. But the 'collateral damage' caused by Allied bombing tactics over German-occupied Europe has been largely unrecognised until now.
Forgotten Blitzes: France and Italy under Allied Air Attack, 1940-1945, is the work of Professor Andrew Knapp from the University of Reading and Dr Claudia Baldoli from Newcastle University. The authors' extensive research of local and national archives across three countries is complemented by diaries and personal memoirs, giving readers a detailed, comparative picture of the impact of Allied bombing on states, local authorities and individuals.
Professor Knapp, from the University of Reading's Department of Modern Languages and European Studies, said: "Bomber Command earned its memorial. Bomber crews knew their chances of surviving a tour of duty were poor. They volunteered anyway, to defeat a uniquely wicked enemy and deserve their place in our memories. But so do the 57,000-plus French civilians who died under Allied bombs."
Studies of Allied bombing typically focus on the German experience. Though logical, that is only about half the story. Germany received 51 per cent of the total Allied tonnage dropped. France received over 570,000 tons of Allied bombs between 1940 and 1945, 21 per cent of the total Allied bombing effort over Europe and nearly eight times the total tonnage dropped on the United Kingdom by the Luftwaffe.
Did the Allies have to do it?
"In many instances, yes", continued Professor Knapp. "It would have been inconceivable to leave French factories working for Germany intact, or to allow the French rail network to deliver fresh German troops to the Normandy beachhead unmolested. In some cases the Allies did do their best to minimise casualties. 'Area' bombing, the RAF's common practice over Germany from 1942 was the exception over France and crews did their best to develop more precise techniques over French targets. Churchill, worried about French civilian deaths in the assault on rail targets, once asked Eisenhower's deputy if he was keeping within 'an unofficial upper limit of 10,000'. The chilling reply was that 6,062 were estimated dead, leaving a 'credit balance' of 3,938."
Forgotten Blitzes: France and Italy under Allied Air Attack, 1940-1945 is authored by Claudia Baldoli and Andrew Knapp, London: Continuum, 2012
ENDS
For all media enquiries please contact University of Reading press office on 0118 378 8005 / 7388