Wimbledon strawberry prices would almost double without bees
Release Date 28 June 2012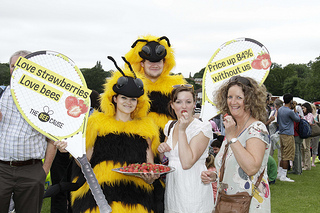 Wimbledon fans were today warned they would face price rises on their strawberries of 84% if bees disappeared, according to new research.
This price increase would mean forking out £4.14 for a 10-strawberry punnet at the famous tennis tournament.
A report produced by the University of Reading for environment charity Friends of the Earth also reveals that insecticide use on strawberries has risen by an incredible 295% between 2005 and 2010, increasing the risk to bees.
The new data comes from research by the University of Reading on behalf of the charity's campaign The Bee Cause. In recent years many bee species have been declining, placing our food supply and economy under threat. Research revealed that without bees, it would cost the UK at least £1.8billion every year to hand-pollinate crops.
Strawberries are highly reliant on bees for pollination. Good quality commercially-grown strawberries require the combination of solitary bees and managed bees to pollinate the fruit. Research also suggests that pollination by bees improves the quality, taste and nutrient levels in our fruit and vegetables. One-fifth of the vitamin C in our diet comes from insect-pollinated crops such as strawberries.
Simon Potts, Professor of Biodiversity and Ecosystem Services at the University of Reading, said: "Strawberries are just one example of the hundreds of different fruits, vegetables and plants that depend on bees for their survival. Unless we do more to protect these pollinating heroes, it's not just the tennis fans at Wimbledon that will be the poorer - the health of our countryside and the security of our food supply will be at risk."
Paul De Zylva, Nature Campaigner at Friends of the Earth said: "This research is a warning we must listen to. Without bees, we could pay a fortune for our fruit and the quality would suffer too.
"Unless we make changes to the way we farm and plan our towns and cities it will be game, set and match for bees."
ENDS
For more information, contact Pete Castle at the University of Reading press office on 0118 378 7391 or p.castle@reading.ac.uk.
Notes to editors
In the absence of bees, the farmgate price of British strawberries would increase by 84% from a 2009 price of £2.21/kg to £4.06 (DEFRA, 2011c, calculated using eq. 7 of Breeze, 2012 - Chapter 2).
Pollination by bees can also improve the market quality (Chagnon et al, 1993), taste (Hogendoorn et al, 2010) and nutrient profile of crops (Volz et al, 1996; Bommarco et al, 2012) and maintain genetic diversity necessary for fighting disease (Somerville et al, 1999).
A punnet of 10 strawberries at Wimbledon currently costs £2.50, but in 2009 (see reference 1) would have been £2.25. More information >>>
Insect pollinated crops are important sources of many nutrients in human diets - without pollination the global availability of vitamin C would fall by 20%, there would be 41% less vitamin A available, 9% less calcium and 20% less fluoride (Eilers et al, 2011 - Table 1 NVap%).
The School of Agriculture, Policy and Development at the University of Reading is a world leader in teaching and research in the natural and social sciences relating to agriculture, the food chain, rural environments and the countryside and international development. In the RAE 2008, 45% of its outputs were rated as either world leading or internationally excellent. Reading is the UK's top university for impact in Agricultural Sciences research (ISI Web of Knowledge, Essential Science Indicators).
Friends of the Earth - For more than 40 years we've seen that the wellbeing of people and planet go hand in hand - and it's been the inspiration for our campaigns. Together with thousands of people like you we've secured safer food and water, defended wildlife and natural habitats, championed the move to clean energy and acted to keep our climate stable. Be a Friend of the Earth - see things differently.