More funding to improve mental health support for young people
Release Date 01 March 2012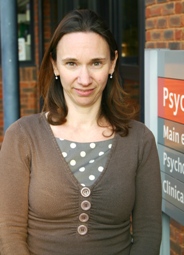 The Deputy Prime Minister Nick Clegg announced this week that the Government is releasing a further £22 million for centres such as the Charlie Waller Institute at the University of Reading to widen mental health support for young people.
The Charlie Waller Institute of Evidence-Based Psychological Treatment and Oxford Health NHS Foundation Trust are a collaborative for CAMHS IAPT (Child and Adolescent Mental Health Services, Improving Access to Psychological Therapy).
The Institute, within the University's School of Psychology and Clinical Language Sciences, provides training for new therapists as part of the IAPT programme. This supports the frontline NHS in implementing National Institute for Health and Clinical Excellence (NICE) guidelines for children and young people suffering from depression, anxiety and conduct disorders.
Mr Clegg said that the ambitious programme will receive an extra investment of up to £22 million over the next three years. This is in addition to the £8 million per year for four years that had previously been secured nationally.
Professor Roz Shafran, of the Charlie Waller Institute, said: "Our collaborative with Oxford Health NHS Foundation Trust already provides training in talking therapies for anxiety, depression and behavioural problems in children and adolescents. The new funds will be used to extend training to two further therapies that address depression, eating disorders, self-harm, and conduct problems with Attention Deficit Hyperactivity Disorder (ADHD).
"We are delighted that we will be able to support even more young people with mental health conditions."
The Charlie Waller Institute is supported by the Winnicott Research Unit, also within the School of Psychology and Clinical Language Sciences, which has international expertise in treating anxiety and other disorders in children.
The IAPT collaborative covers Oxfordshire, Buckinghamshire, Swindon, Wiltshire, Bath and North East Somerset, Bournemouth, Poole, Dorset and Gloucestershire.
Half of children and young people with long-term mental health problems first experience symptoms before the age of 14 and three quarters of them before their mid-20s. Giving children and their families the right help through a broad range of support from the outset and through early and effective intervention when problems first appear can make a real difference to young lives.
ENDS
For more information please contact Rona Cheeseman, Research Communications Manager, on 0118 378 7388 or email r.cheeseman@reading.ac.uk
Notes to editors
The Charlie Waller Institute (CWI) is a collaborative initiative between the Charlie Waller Memorial Trust, the University of Reading and Berkshire Healthcare NHS Foundation Trust. It was set up in memory of Charlie Waller, son of Sir Mark and Lady Rachel Waller, who committed suicide at the age of 28 while suffering from depression.
Clinicians need to know that the training they receive has a demonstrable, positive impact on both their skill and the outcomes for their patients. The Charlie Waller Institute is therefore committed to training therapists only in psychological therapies that have been shown to work, and also to ensuring that the training impacts positively on clinician knowledge, skill and patient outcome.