A celebration of women in research
Release Date 02 March 2012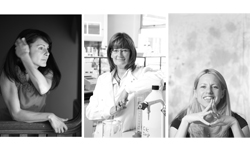 A new photographic exhibition at the University of Reading will celebrate women in research at the University of Reading.
Research is often considered as a male-dominated profession, however the University has a wealth of women working in research who maintain a good work-life balance. The exhibition is open to the public on International Women's Day, 8 March, during which students and staff will talk about their own experiences as researchers, hosted by the Vice-Chancellor of Reading, Sir David Bell.
The women in the exhibition represent just a small selection of the 1,100 women researchers working at all levels across the University. It is hoped their stories will inspire others to continue in their research or consider research as a career.
Rona Cheeseman, University Research Communications Manager said: "We're delighted to be launching this very special exhibition, which celebrates the achievements of our women researchers and finds out about the challenges they face. I do hope as people as possible can join us on the night to enjoy the exhibition and to learn more about the experiences of staff and students."
The exhibition will also feature letters and the memoirs of Edith Morley, who was made the first woman professor in Britain in 1908 at the University of Reading.
The event, in Henley Business School on the main Whiteknights campus, starts at 7.30pm, with a reception from 6.45pm, and is free to the public.
If you wish to attend, please email events@reading.ac.uk to register.
ENDS