His Royal Highness Duke of Kent tours Uni research facilities
Release Date 12 March 2012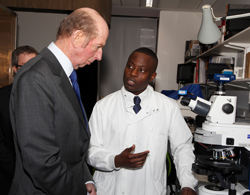 The University of Reading was delighted to welcome His Royal Highness The Duke of Kent to its Whiteknights campus on Thursday 8 March.
His Royal Highness enjoyed visiting the world-class facilities and meeting the highly skilled staff that makes Reading one of the strongest research-led universities in the UK.
Sir David Bell, Vice-Chancellor of the University of Reading, welcomed His Royal Highness and the Lord Lieutenant of Berkshire, The Hon Mrs Mary Bayliss, to the campus at midday. They joined Chancellor Sir John Madejski and guests for a drinks reception and lunch at the University's Blandford's restaurant.
The tour began with a visit to the University's Institute for Cardiovascular and Metabolic Research. The Duke learnt how the Centre is seeking to understand the development of cardiovascular and metabolic conditions in order to help prevent heart attacks and other related diseases.
His Royal Highness then heard from staff and students working in the Hugh Sinclair Human Nutrition Unit about the impact of food and diet on the risk of chronic diseases including coronary heart disease, type 2 diabetes, cognitive decline and cancers.
Donning a white coat, the Duke went on to visit the University's Food Process Research Centre. The Centre is used to carry out product and process research and development on a pilot scale and is the largest of its kind in the UK.
The Duke then traded his coat for a stocks and shares demonstration in the University's ICMA Centre. Students gave His Royal Highness a feel for the exciting atmosphere a trading floor generates in the Centre's simulated dealing rooms.
Sir David Bell said: "The University was honoured to welcome His Royal Highness The Duke of Kent and to show him some of the excellent work being done by staff and students. His Royal Highness was very impressed by our work which is making a real difference to people's lives, here and across the world."
Ends
Further press information from James Barr, University of Reading press office, 0118 378 7115 or j.w.barr@reading.ac.uk