Public Lecture: Can changing your diet and lifestyle alter your cancer risk?
Release Date 12 March 2012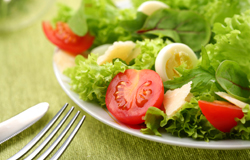 Cancer causes and possible preventative measures will be put under the spotlight on Wednesday 14 March during the next talk in the University of Reading's 2011/2012 Public Lecture Series, as part of National Science and Engineering Week.
The ever popular annual series sees University of Reading experts share their knowledge with the public in a series of free evening lectures.
In this talk Professor Ian Rowland, from the University of Reading's Department of Food and Nutritional Sciences, will explore the main causes of cancer and address why experts apparently disagree on which diets cause and which prevent cancer.
Professor Rowland said: "We are constantly told that a healthy diet and lifestyle will prevent illness and help us live longer but can we actually reduce our risk of developing cancer through diet and lifestyle choices? Is it just a matter of eating lots of fruit and vegetables, or are there other food products that might help lower cancer risk?"
All the talks in the series are given by researchers eminent in their field and in a manner that is easily understood by all. They offer a unique opportunity to learn about the cutting-edge research, teaching and people that make the University a world-class institute.
The University Public Lectures are on Wednesdays and start at 8pm. They are held in the Palmer Building on the University's Whiteknights campus. Lectures are free to attend and no ticket is required. Please visit the Public Lecture Series website for more details or contact the Events team on 0118 378 4313 or email events@reading.ac.uk.
Ends
For University of Reading media enquiries please contact Becki Rassell, Communications Officer - 0118 378 8408 or b.rassell@reading.ac.uk