Uni goes extra mile for Sport Relief!
Release Date 13 March 2012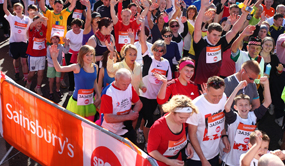 The University of Reading is supporting its Students' Union (RUSU) to provide the only official Sport Relief Mile venue in central Reading on Sunday 25 March.
During the week the University's Whiteknights campus excels in exercising the mind. However for this charity event the University looks forward to welcoming the local community for exercise of a different kind, to raise as much money as possible for some fantastic causes.
Reading residents can take part in the fun run at three times during the day, 10am, 11am and midday. For the slightly more serious runners there is the option of running three or six miles if starting at 10am. Over 300 people have already signed up to take part.
The route will take runners through the centre of the campus and include the lovely Whiteknights lake. The Students' Union refreshment outlets will be open for friends and families wishing to cheer on participants and recovering runners!
Jack Legon, RUSU Vice President, who has organised the event said: "The Sport Relief Mile will be a fantastic experience for all involved. It will be a fun, family event no matter what your fitness levels & I encourage everyone to take part."
Sir David Bell, the University of Reading's Vice-Chancellor, who will be running the mile added: "Sport Relief is an important charity that helps people in the UK and in the world's poorest countries who are living incredibly tough lives, so I'm delighted the University is hosting such an event. I look forward to seeing a great number of Reading residents on the start line!"
If you wish to take part please visit the BBC Sport Relief mile website (www.bbc.co.uk/sportrelief). On the day, participants and spectators should arrive at the University (using the Pepper Lane or Shinfield Road entrances) and follow event signs to the allocated car parks from where they will then be directed to the Students' Union to register.
For more information please contact Adam Bailey, RUSU Student Activities Manager, tel. 0118 378 4119 email adam.bailey@reading.ac.uk