'Bee hotel' to provide homes for Britain's pollinating heroes
Release Date 13 March 2012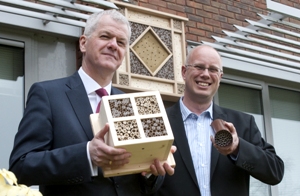 Scientists at the University of Reading are doing their bit to help Britain's threatened wild bees by building them a five-star 'bee hotel'.
The large wooden structure will provide the perfect habitat for some of our important wild bee varieties, allowing the friendly insects to check in and make their homes.
The bee hotel, unveiled on the wall of the University's Agriculture building by Vice-Chancellor, Sir David Bell, on 13 March, is part of efforts by scientists at the School of Agriculture, Policy and Development to highlight the plight of the humble bee - numbers of which are in severe decline across Europe.
Of the 250 species of bee found in the British countryside there is a specialist group which nest in small cavities, such as cracks in walls, hollow plant stems and beetle holes in dead wood. However, changes in land management and agriculture mean these cavity nesting bees often struggle to find enough places to nest. Man-made bee hotels can provide them with a suitable alternative -providing them with nesting sites to start the next generation of bees.
Cavity nesting bees are particularly good at pollinating many of our crops such as apples, pears and cherries, and also many of the beautiful wild flowers we find in the spring time.
The bee hotel has been built by Robin Dean, a visiting Research Fellow at the University, and a commercial supplier of bees. He said: "One of the major drives of bee decline is a dearth of suitable nesting sites. By providing artificial nests we both get to learn more about bee biology and give a significant boost to agriculture and local biodiversity by providing pollination services."
Professor Simon Potts, a bee expert and Professor of Biodiversity and Ecosystem Services in the School of Agriculture, Policy and Development, said Reading's research had shown it was important not only to maintain wild flowers to provide food for bees, but also to make sure they had places to live and reproduce.
"The bee hotel is an excellent example of how we can give our hard working local heroes a hand," Professor Potts said. "In turn they will help pollinate our crops and make sure we have plenty of fruits and vegetables in our shops."
Stuart Roberts, chairman of the Bees, Wasps and Ants Recording Society, said: "Our solitary bees are without doubt the 'forgotten pollinators'. They are wonderfully diverse in size and form and show an amazing range of different behaviours.
"Unlike the honeybee, most species are active for only a few weeks each year, and so the resources they need must be available when they are on the wing."
Ends
For more information contact Pete Castle at the University of Reading press office on 0118 378 7391 or p.castle@reading.ac.uk.