Book a date for literary exhibition
Release Date 14 March 2012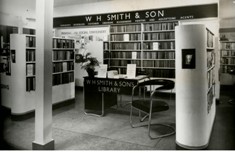 Expand your literary horizons and learn more about the history of the novel through a fascinating collection of letters, photos, books and documents at the University of Reading's Museum of English Rural Life.
The display focuses on the changing literary marketplace of the late 19th and early 20th Century, when novels became cheaper, more readily accessible, and more widely read. The exhibition showcases materials from the archives of British publishers and printers, as well as photos from the recently acquired W.H. Smith archive and rare books about reading and bookselling from the Mark Longman library.
It has been curated by Dr Nicola Wilson and Dr Andrew Nash from the Department of English Language and Literature.
The exhibition, entitled, 'Selling and distributing literary cultures, 1880-1940', runs until 30 March at MERL in Redlands Road. Opening hours are 9-5pm Tuesday to Friday, and 2-4.30pm on Saturday and Sunday.
ENDS
For more information please contact Rona Cheeseman, Research Communications Manager, on 0118 378 7388 or email r.cheeseman@reading.ac.uk