Overseas students say study at Reading
Release Date 14 March 2012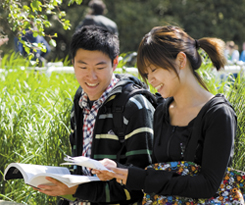 Overseas students choosing the University of Reading can expect a warm welcome, strong support and a high-quality living and learning experience according to the International Student Barometer (ISB) autumn 2011, an independent survey of overseas students at more than 200 international universities.
University of Reading scores well in the five main sections of the survey, and highly in the support and learning opportunities it offers overseas students.
The ISB found that 92% of overseas students were satisfied/very satisfied with the support they received while at Reading. 90% of overseas students felt the same about their living experience and 88% with their learning experience.
Reading also ensures new students have easy access to the web, ranking number one out of the 238 universities surveyed across the world for access to the internet on arrival.
Overseas students are also happy to endorse the Reading experience with 87% saying they would recommend studying at Reading. This is the best score the University has received in this category and places it in the top 10 of UK institutions in this round of the survey.
Compared to the 238 universities who entered the survey across the world the University ranked:
Top for internet access on arrival
Tenth for academic course content
In comparison to the 54 UK universities taking part in the ISB research, the University ranked:
Third for fair and transparent assessment
Sixth for academic course content
Thirteenth for meeting academic staff on arrival at the University
Fifteenth for employability (learning that will help me to get a good job)
University of Reading Vice-Chancellor Sir David Bell said: "These results reinforce our commitment to providing the very best experience for all our students and outlines why we are ranked in the top 1% of universities world-wide. The University of Reading is a wonderfully multicultural, vibrant and friendly place in which to study with high-quality teaching staff and excellent facilities, providing the perfect platform for students to achieve their goals."
Find out more about studying at the University of Reading >>>
ENDS
For more information, please contact James Barr, press officer at the University of Reading on 0118 378 7115 or email j.w.barr@reading.ac.uk
Notes for editors
Reading is a global University ranked in the top 1% of universities world-wide (Times Higher University Rankings 2011-12)
Standards of teaching are excellent - the University scored highly in the National Student Survey 2011. 89% of Reading students responding to the survey stated they were satisfied with the quality of their course.
What is the ISB?
The International Student Barometer research tracks the opinion of international students at two points in the academic year, autumn and summer. It tracks satisfaction with arrival, learning experience, living experience and student support.
In the most recent wave, autumn 2011, 238 universities participated globally including 54 UK universities.