Law students' video link to India for international 'court case'
Release Date 16 March 2012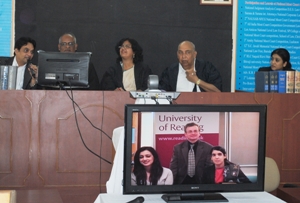 Students from the University of Reading's School of Law have taken part in an international 'moot court' competition organised by a partner institution in India.
Husna Alam and Nasreen Akhtar, both final year students of the School of Law, took part in the event on 24 February via a video link between Reading and organisers at the New Law College (NLC), Pune, in India.
The students were coached by Thomas Innes, a current LLM student at the Law School, and their written submissions were made prior to the oral hearing - a mock court case in which trainee lawyers made the case for and against an applicant State in an international court setting.
The students did very well in presenting the arguments of the applicant and defendant States of the dispute discussed, addressing a variety of aspects of public international law and human rights law before a bench of three Indian judges.
The moot court competition gave Professor Hugo Tucker, Dean of the Faculty of Arts, Humanities and Social Science, and Dr Anne Thies, a Lecturer in the School of Law, an excellent opportunity to greet their colleagues at NLC.
The event helped to strengthen a newly established collaboration between the two institutions, formalised with a Memorandum of Understanding between NLC and the University of Reading.
Professor Tucker and Dr Thies were both members of a delegation, led by Professor Steven Mithen, Pro-Vice-Chancellor for International and External Affairs, that visited India earlier this month to explore potential links and strengthen existing ties between the University of Reading and Indian higher education institutions.
Dr Thies said: "In an era where global links with emerging giants such as India are increasing, international law is becoming more important.
"At the University of Reading we're keen to forge stronger links with partners worldwide. Not only do we continue to provide an excellent education for the lawyers of the future from across the globe, we also want to enrich our learning and research environments with an increasing international dimension."
ENDS
For more details, contact Pete Castle at the University of Reading press office on 0118 378 7391.