Entrepreneurial students help local social enterprise
Release Date 22 March 2012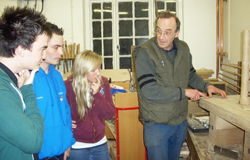 A Berkshire firm has benefitted from students' entrepreneurial skills as part of a social enterprise scheme run by the University of Reading.
Students visited Community Interest Company Chissock Woodcraft, who offer a furniture repair and restoration service in Hare Hatch, Reading, to find out about the kind of issues they face, particularly in these tough economic times, and to offer a new perspective on the business. The company gives training and support to those in recovery from drug and alcohol abuse, by helping them gain new skills and qualifications in woodwork and upholstery.
All University of Reading students have the opportunity to strengthen their CV and to learn more about the third sector by opting to take a specialised social enterprise module during their studies. Students spend time with a local social enterprise on a short placement to learn more about what it does, and to get an insight into the business and the issues it faces. They then write a report with their suggested solutions to help the company resolve the issues.
Steve Hedger, Manager at Chissock Woodcraft, found the experience to be extremely useful; "It is always great to have visitors to the company as it gives our trainees and staff a boost to know that people are interested in their work. More importantly, we found that by presenting our work to the students and working with them it helped us to redefine why and how we do what we do.
"The students came up with some great suggestions to help us improve our operation and overcome various issues we face on a day to day basis. It is very encouraging and useful to gain a different perspective on things from such able and switched on students."
The module, which is organised by the Centre for Entrepreneurship in the Henley Business School, aims to give students exposure to real life business issues, and gain an understanding of social enterprise and Community Interest Companies.
Thomas Bridle, an applied information technology student, originally from Folkestone Kent, said: "Visiting Chissock has really opened my eyes to the benefits that social enterprises can have give to a community. The company's social mission of rehabilitating recovering addicts runs alongside their commitment to delivering a quality service to their customers, so it was interesting to see the kinds of issues they face in comparison to 'normal' companies."
Thomas, who is 23 and in his final year at Reading, added: "Meeting the team at Chissock has definitely changed my attitude towards addiction and recovery, and this placement has given me a valuable insight into social enterprise that will undoubtedly benefit my future career."
Ends
For University media enquiries please contact Becki Rassell, Communications Officer, on 0118 378 8408 or email b.rassell@reading.ac.uk
Notes to editors:
Founded in 2007, the Centre for Entrepreneurship is part of Henley Business School at the University of Reading. Led by Professor Andrew Godley, the Centre provides a lively hub for teaching and research in the subject, inspiring students from across the University to embrace, develop and apply their entrepreneurial abilities.