Students volunteer to keep their neighbourhood tidy
Release Date 22 March 2012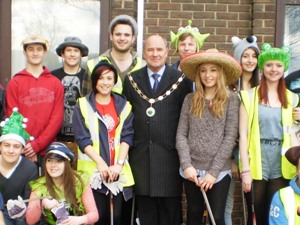 University of Reading students have been congratulated by the Mayor of Earley for their efforts to keep their neighbourhood clean and tidy.
Student residents of Sibly Hall in Redhatch Drive, which is home to around 300 students, have been helping to spruce up their neighbourhood by organising weekly litter picking in roads around the well-known hall of residence.
Dozens of university students have braved all weathers every Wednesday afternoon during term time since 2011 to clean up streets including Redhatch Drive, Durand Road, Radstock Lane, Chalfont Park and Elm Lane.
The scheme was begun as part of the EASI project - the Earley Adopt a Road Initiative.
Last Sunday, students organised an extra Sunday afternoon session as part of the annual Earley Clean-up.
Earley Town Council Mayor, Cllr Tim Chambers, went along to say thank you and to congratulate them on the efforts throughout the year.
Ann Westgarth, University of Reading community relations manager, said she was 'very proud' of the efforts of the young volunteers.
"These University of Reading students have demonstrated their commitment to their community by giving up their spare time to help out," she said.
"They are a really good example of young people caring for the environment and wanting to make a difference. People living in the area have told me how much they appreciate their efforts.
"I hope they have set the precedent for students in our other halls of residence to start up similar groups in their neighbourhoods."
Ends
For more details contact Pete Castle at the University of Reading press office on 0118 378 7391 or p.castle@reading.ac.uk.