Research into virtual reality therapy for drug abuse wins award
Release Date 22 March 2012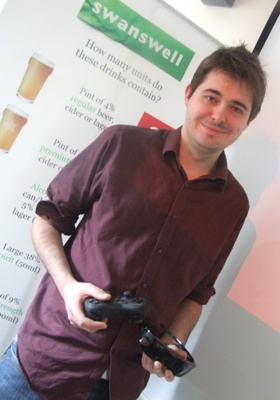 A research paper investigating how virtual therapies could help people overcome substance misuse, produced through a collaboration between the University of Reading and a drug and alcohol charity, has received national recognition after picking up an academic prize.
'The use of computer game technology in the treatment of addiction'* was submitted to the Interactive Technologies and Games: Education, Health and Disability conference (ITAG 2011) at Nottingham Trent University in November last year.
The first author was Liam North - a University of Reading Knowledge Transfer Partnership (KTP) Associate working with drug treatment charity Swanswell to explore the use of computer games to help in the development of coping skills and to reduce craving for illicit drugs and alcohol.
The paper highlighted the outcomes of various studies and the national charity's own research with people affected by substance misuse, as well as details of interactive software being developed by the team to provide more innovative treatment in existing services.
It was submitted to the ITAG 2011 conference as part of a demonstration of the computer game-based intervention and has just been awarded the 'best student paper' prize, after being judged by a committee of leading experts.
The technology involves a client using a virtual reality headset to access a number of computer-generated scenes that allow them to make decisions, which lead to more events as the scene unfolds.
People using the technology can then 'move' between the scenes, which include a domestic scene with drug and alcohol-related cues, a street scene featuring phone boxes, discarded drink cans and drug paraphernalia, and a bar scene.
Liam said: 'There's lots of promising evidence out there for the use of computer game-based therapies, so we're delighted that our paper has been recognised by academic experts.
'Swanswell believes virtual therapies such as this can play a big part in the treatment and recovery of people affected by substance misuse in the future, helping them change and be happy in innovative ways.'
Dr Faustina Hwang, from the University's School of Systems Engineering, one of the Academic Supervisors for the project, said: 'It's a fantastic achievement for Liam to win the best student paper award and we are delighted that his work has been recognised by the conference in this way. There is real potential for this type of technology to change the way that drug and alcohol treatment is delivered, so we're very excited about where the work is going and the benefits it could bring to clients.'
Since beginning work with Swanswell, Liam has also been studying for a PhD at Reading which relates to his Knowledge Transfer Partnership.
Ends
For more information or photographs contact Pete Castle at the University of Reading press office, on 0118 378 7391 or p.castle@reading.ac.uk or Stuart Goodwin at Swanswell on 01788 559422 or stuart.goodwin@swanswell.org.
*L North, F Hwang, A Haffegee, P M Sharkey, C Robinson, The Use of Computer Game Technology in the Treatment of Addiction, Interactive Technologies and Games: Education, Health and Disability, Nottingham, UK, Oct. 25-26, 2011.
Notes to editors:
The University of Reading is one of the top 20 research intensive universities in the UK, and recognised overall as among the top 1% of universities internationally (THE World University Rankings 2011-12). The University consistently achieves high ratings for the quality of its teaching and in independent surveys of students.
The School of Systems Engineering at the University of Reading is a world-renowned centre of excellence for teaching and research, bringing together expertise in information technology, computer science, cybernetics and electronic engineering.
Swanswell believes in a society free from problem alcohol and drug use; that everyone deserves the chance to change and be happy. We're a market leading charity with an exciting programme of innovative new service developments and a team of committed people who are working hard to achieve our ambitions. Swanswell has a number of offices across the country including Coventry and Warwickshire, Birmingham, Barnsley, Sandwell, Leicestershire and Rutland. Visit Swanswell at: www.swanswell.org or www.twitter.com/Swanswell.
Knowledge Transfer Partnerships: This Partnership received financial support from the Knowledge Transfer Partnerships programme (KTP). KTP aims to help businesses to improve their competitiveness and productivity through the better use of knowledge, technology and skills that reside within the UK Knowledge Base. KTP is funded by the Technology Strategy Board along with the other government funding organisations.