Teaching the teachers
Release Date 30 March 2012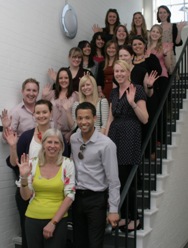 Former students of the University of Reading returned as newly-qualified teachers (NQTs) to benefit from professional development and to meet up with old friends.
The Institute of Education welcomed 40 NQTs to its new London Road home as the first step in setting up a network to guide them through their first year. With reduced government funding to support new teachers in their schools, the Institute is keen to ensure they continue to receive up-to-date training on primary school English and mathematics in particular.
Helen Bilton, PGCE Primary Programme Director, said: "The feedback from the teachers was really good and we want to look at how we can continue to support them after they leave Reading and take up their first teaching posts. Government is keen for us to engage with NQTs and we want to make sure that their professional development continues."
Ends
For more information please contact Rona Cheeseman, research communications manager, on 0118 378 7388 or email r.cheeseman@reading.ac.uk
Notes for editors:
The Institute of Education at the University of Reading is one of the leading providers of teacher training in the UK. Every year, nearly a thousand students graduate as newly-qualified teachers, and hundreds more qualify at Master's and PhD level. The University has excellent partnership arrangements with over 300 local schools which employ the majority of our national graduates. Graduates from the Institute have an excellent chance of finding employment - 96% of our graduates took up a teaching job last year.