From gold coins to credit cards – Centre examines economies of the past
Release Date 30 March 2012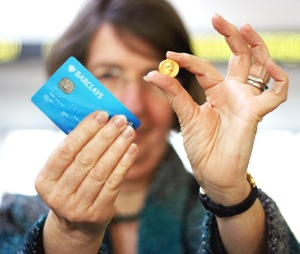 What do the Greek Prime Minister and Edward I have in common? The University of Reading's new Centre for Economic History is finding answers to this question as well as other fascinating links between our financial past and present.
The Centre aims to further our understanding of economic history and development. Uniquely, the Centre brings together University experts from a variety of disciplines, from archaeologists and economists, to financiers and historians, as well as covering a vast date range, from the classical world through to modern society.
A project already underway is the study of Medieval Foreign Exchange c. 1300-1500. This is adopting the tools and techniques of modern finance to analyse the market for foreign exchange that existed in the later Middle Ages. It examines how medieval merchant societies, the forerunners of modern investment banks, sought to profit from speculating on exchange rate fluctuations.
On Friday 23 March, leading academics gathered at the University's ICMA Centre for a programme of talks to examine 'Crisis and change in historical perspective'. The delegates also attended an evening event where the University of Reading's Vice-Chancellor, Sir David Bell, officially launched the new Centre.
Rev Dr Margaret Yates, Director for the Centre for Economic History, said: "Economic history is an exciting field of research and we are proud to have established strengths in all the key sectors of the economy. Our diversity gives the Centre a freshness and originality and, unlike similar centres, Reading's research is continuous in its coverage, running from the classical world, through the medieval and early modern periods, right up to the present day... and a little beyond!
"Medieval Foreign Exchange c. 1300-1500 is the first project to systematically study both the short and long-term determinants of medieval foreign currency rates. We are investigating how successful medieval governments were in their attempts to control exchange rates, an issue clearly of relevance in today's markets where there is again talk of central bank intervention in the FX markets and the possibility of competitive devaluations. In fact we are discovering that the problems Edward I experienced, such as having to default on his Italian financiers and government debt holders accepting a substantial 'haircut', have parallels with current events in Greece."
The University of Reading possesses 20 economic historians, a much larger number than Oxford or Yale, the majority of whom are of international standing and whose interests stretch from antiquity to the twenty-first century.
Visit the Centre for Economic History website or contact m.h.yates@reading.ac.uk to find out more.
Ends
For all media enquiries please contact press officers James Barr on 0118 378 7115 or j.w.barr@reading.ac.uk or Pete Castle on 0118 378 7391 or p.castle@reading.ac.uk.
Notes for Editors:
The launch of the new Centre for Economic History took place in the context of 'Crisis and change in historical perspective', a conference that illustrates the ethos of the new Centre - working across academic disciplines and broad chronological coverage. The programme brought together leading researchers in the field who presented papers followed by round table discussions by delegates where the implications for today were drawn out. The programme included:
Prof Harold James, Princeton University - Making the European Monetary Union.
Prof Nick Mayhew, Winton Institute for Monetary History, Oxford - Money and prices in medieval and early modern England.
Dr D'Maris Coffman, Centre for Financial History, Cambridge - Re-thinking the origins of the British public debt, 1643-1742.
Prof Philip Cottrell, University of Leicester - Banking in Greece during the 1880s
Prof Brian Scott-Quinn, ICMA Centre, University of Reading - What financial crises all have in common or do they not have a common cause.