Be part of science history by joining the Forecast Factory
Release Date 08 May 2012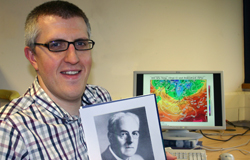 Science enthusiasts will be able to see how weather forecasts work while helping to create the world's largest weather-predicting human computer at Reading Town Hall next month.
The Forecast Factory experiment, organised by meteorologists at the University of Reading, will attempt to recreate an idea first put forward by weather pioneer Lewis Fry Richardson 90 years ago, but which has never been attempted at such a large scale - until now.
Organisers are now seeking 200 enthusiastic people, aged eight plus, to arm themselves with a pencil, paper and calculator and become a vital cog in the world's largest ever human computer designed to predict the weather.
The free event, in the Town Hall on Sunday 3 June, is part of the Reading WAM Festival (Weather, Art and Music) over the Jubilee Bank Holiday weekend.
Participants will also have a chance to meet Met Office forecaster Laura Tobin, who is a BBC weather forecaster and a former University of Reading student, and scientists from the world-leading Department of Meteorology at the University of Reading and the Reading-based European Centre for Medium-Range Weather Forecasts.
Andrew Charlton-Perez, a meteorologist from the University of Reading, said: "This is a fascinating and ambitious attempt to carry out an experiment that was first put forward by one of the fathers of modern weather forecasting.
"You will need no previous experience of meteorology, maths or science to take part. But you will form part of a human computer that will work in exactly the same way as the modern supercomputers used to predict the weather by scientists today.
"This is a unique experiment and it promises to be a lot of fun. We look forward to seeing you."
Fry Richardson first put forward his idea for weather forecasting - in which a series of calculations are made across a grid, with the results for each grid cell depending on the output of those around it - in 1922, and he proposed that a large group of people could be used to make the calculations quickly and accurately.
However, his idea for what he called a 'forecast factory' to make the calculations was overtaken by electronic calculating machines in the 1950s - the forerunners of modern computers - and was therefore never tested.
The event will take place in two sessions, from 10am-12pm and 2-4pm on Sunday 3 June. Tickets are free, but limited to 200 people. Visit the Town Hall box office website or call the box office on 0118 960 6060 for tickets.
ENDS
For more details, contact Pete Castle at the University of Reading press office on 0118 378 7391 or p.castle@reading.ac.uk.
Notes to editors:
Visit the Reading Arts website for event details
The event is open to anyone, including children aged eight or above. Children must be accompanied by an adult - who are also very welcome to take part.
Please bring a calculator, or a mobile phone with calculator function
The event is part of the Reading WAM (Weather, Arts and Music) festival, which is running over the Jubilee Bank Holiday weekend. The festival includes many events, including two gala recitals, over the weekend. Visit the WAM Festival website for details or follow @wamfestival on Twitter (#WAM).
The University of Reading is ranked among the top 1% of universities in the world (THE World University Rankings 2011-12), is among the top 20 universities in the UK for research funding, and according to students has the best campus environment in the UK (THE Student Experience Survey).
The University is home to the Department of Meteorology, which is internationally renowned for its excellent teaching and research in atmospheric, oceanic and climate science. Reading is the only UK university to offer a full range of undergraduate and postgraduate courses in meteorology, and 75% of the Department's research work has been graded as world leading or internationally excellent.