Uni gold to world gold – Reading the place to go for rowing success
Release Date 09 May 2012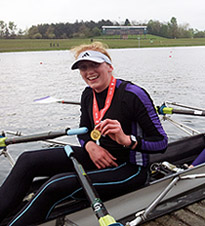 The University of Reading Boat Club (RUBC) confirmed it is one of the leading rowing clubs in the UK last weekend. A tremendous performance in the annual British Universities & Colleges Sport (BUCS) PwC Regatta was complemented with a current student Reading graduate winning two gold medals at the Rowing World Cup.
The women's squad put on a five gold-star display at the PwC Regatta. To go with their five wins, the squad also returned with two silver medals while RUBC's young men's squad made an impressive seven finals.
The Regatta, held in Nottingham, is the largest student rowing event in Europe. This year 944 crews, representing 68 universities from across the UK, entered the event.
The women's eight crew emphatically reinforced its status as the best university crew in Britain by winning the Championship 8's. Second place Newcastle finished over a length behind, with Cambridge claiming third spot. The crew is undefeated this season after wins in the BUCS Head of the Rivers and the University Pennant at the Women's Head earlier in the year.
There were many outstanding performances over the weekend but year three biological sciences student Georgie Hazell excelled, winning an astonishing four gold medals!
Meanwhile in Serbia, University of Reading PhD student Anna Watkins and graduate Alex Gregory were rowing for Great Britain in the opening 2012 Rowing World Cup event.
Anna took the gold medal in the Double Scull confirming she and her fellow crew member are favourites to win Olympic Gold in the women's double this summer. Reading Alumni Alex Gregory formed part of the crew that were victorious in the men's coxless 4.
University of Reading Director of Rowing Will Rand said: "I am extremely proud of the whole squad. The results are testament to the huge amount of work and enormous commitment of everybody concerned with RUBC. Our women's squad is truly one of the best in the UK while our men's squad is young but very talented. We are looking forward to seeing it develop over the next few years.
"Anna and Alex's performances in Belgrade were fantastic. Both raced in the BUCS Regatta back in 2007 and are now two of the best rowers in the world. It's amazing to see these once student champions now pushing to become Olympic champions. With the fantastic support it receives from the University, its state-of-the-art facilities, passionate and skilled members, RUBC is in a great position to turn young rowers' dreams into reality."
For more information about RUBC contact Will Rand, Director of Rowing at the University of Reading, on 07989 972 594 or email w.rand@reading.ac.uk or visit.
Find out about University of Reading rowing scholarships
ENDS