Flower power – how your garden impacts on you and the environment
Release Date 11 May 2012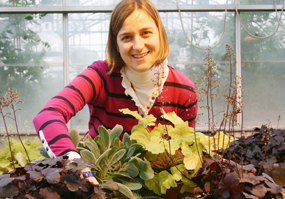 Reducing air temperatures, controlling flooding and trapping pollution. These are some of the effects your garden has on the world we live in. For the first time, the University of Reading and the Royal Horticultural Society (RHS) teamed up at this year's Chelsea Flower Show (22 - 26 May 2012), to showcase their research which is examining the effect of plants in urban environments.
A surprisingly high proportion of the surface of some of the busiest and most populated western cities is covered in vegetation, almost up to 50% in some cases. In the UK, almost half of those urban green areas are made up of private gardens, so what we grow in our gardens and public green spaces, and how we manage them, can really impact on our environment, both positively and negatively.
Dr Tijana Blanusa, an RHS scientist based at the University's School of Biological Sciences, is currently working on understanding the 'services' which plants can provide in the urban environment .
Dr Blanusa said: "Plants can do surprising and amazing things. There is sound scientific evidence that urban vegetation, because of the way it naturally functions, moderates air temperatures, helps insulate buildings against the extremes of weather, and supports and enriches urban biodiversity and human health.
"Our exhibit showed how they can cool the air temperature, hold excess water in their canopies during and after rainfall and temporarily trap pollutants on their large surface areas"
However the amount of water and energy consumed in managing urban green spaces and private gardens greatly influences the level of their potential environmental benefits. Higher inputs often mean that the benefits decrease.
But thoughtful use of plants in the home and public spaces can have a significant impact on our lives.
"Using a variety of plant forms is the key to getting most out of your garden as not all plants are the same," continued Dr Blanusa. "Consider choosing plants with hairy, rough, thin and succulent traits with a variety of colours. Lighter coloured plants and those with thinner leaves are more efficient at cooling while some hairy leaved plants can be cooler than those with less hairy leaves. Hairy and rough leaves can also trap more pollutant particles and hold more rainwater."
Caroline Spelman, Environment Secretary, visited the stand. She said: "I'm very pleased to see the University of Reading and the RHS working together on this issue, because this kind of research has the potential to help us become more resilient and adapt to a changing climate. It also highlights how easy it can be for people to make a real difference - even in their own gardens."
Keeping their cool: how the plants in urban environment help reduce temperatures, control flooding and capture pollution featured in the 'RHS Environment' section of the Chelsea Flower Show.
ENDS
For all media enquiries please contact James Barr, press officer, on 0118 378 7115 or email j.w.barr@reading.ac.uk
Follow us on Twitter | Like us on Facebook | Read our research blog 'The Forum'
Notes for Editors
The University is one of the UK's top research-intensive universities and is ranked in the top 20 UK higher education institutions in securing grants worth over £10 million from UK research councils.
The School of Biological Sciences is a research intensive institution, which prides itself on the excellence and relevance of its degree courses. It consists of two sections - Biomedical Sciences and Environmental Biology. The latter deals primarily in ecology and evolutionary biology, and the applied links between these disciplines, wildlife conservation and the biological control of agricultural pests and diseases.