Pupils inspired by Chemistry competition
Release Date 24 May 2012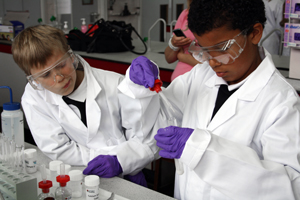 View photos from the Salter's Festival of Chemistry
Over 120 pupils from schools across the region put their chemistry, team-work and problem-solving skills to the test at the University of Reading over 9 and 16 May.
The pupils were taking part in the Salters' Festival of Chemistry, hosted by the University's Department of Chemistry, which aims to promote the appreciation of chemistry and related sciences among the young.
Teams of four from each school, made up of pupils from Years 7 and 8, were set two chemistry challenges to solve while the clock ticked down.
The first challenge involved identifying the main suspect in a murder case using chemical tests on samples taken from the crime scene and suspects. In the afternoon 'University Star Trek Challenge' teams had the space but little time as they worked against the clock in order to devise a chemical solution to prevent the Starship Enterprise's dilithium crystals from overheating.
Schools from Berkshire, Buckinghamshire, Oxfordshire, Surrey, Hampshire and Middlesex took part in the Festival.
Emma Gaster from the Downs School in Newbury said: "We all had a fantastic time and really enjoyed the whole experience. The girls felt like they got to do some 'real science' and loved being left to get on with it without having the teacher keep telling them what to do. The confidence of one of the students is so much higher now. She enjoys science and always tries hard but doesn't always get the best grades. She is more focussed in lessons again now and willing to try without being afraid of making mistakes."
Carolyn MacDonald from Laynesborough School in Guildford added: "The boys really enjoyed the challenge of working in such professional surroundings and using their own abilities and initiative. The activities made them think hard and draw on all their chemistry knowledge and practical skills."
The days were rounded off with a demonstration lecture on "Hot and Cold" by Dr. David Nutt from the Chemistry Department.
Dr Nutt commented: "It's great to see pupils enjoying doing chemistry. They really engaged with the challenges and had great fun too. The Festivals highlight the important part that Chemistry plays in our every day lives, and hopefully encourages youngsters to study the subject in further education to inspire the next generation of chemists and scientists.
The Salters' Festivals of Chemistry are an initiative of The Salters' Institute, whose aim is to promote the appreciation of chemistry and related sciences among the young. The Festival at the University of Reading is one of a series of 54 Festivals which are taking place at Universities throughout the UK and the Republic of Ireland between March and June 2012.
ENDS
Follow us on Twitter | Like us on Facebook | Read our research blog 'The Forum'