Reading academic's royal audience
Release Date 28 May 2012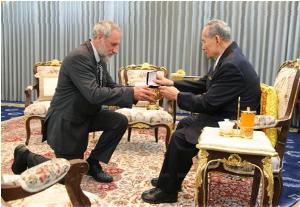 A Reading scientist found himself thrust into the royal spotlight when he travelled to Thailand last month.
Stephen Nortcliff, Emeritus Professor of Soil Science at the University of Reading, travelled to Bangkok to present the King of Thailand with an award marking his contribution to soil science - the IUSS Humanitarian Soil Scientist Medal.
Professor Nortcliff was invited to present the medal in his capacity as former Secretary General of IUSS, the International Union of Soil Sciences, to King Bhumibol Adulyadej, who is known as a champion of soil conservation and improvement in his native Thailand.
The visit was given national attention, however, when the elderly king, who is revered by the public and media in Thailand, made a rare public appearance to receive the award after an extended period of ill health. The king is the longest-serving head of state in the world, having acceded to the throne in 1946 - a full six years before our own Elizabeth II.
Professor Nortcliff said: "I read a citation to the king and then went forward and on my knees presented him with the medal. The king asked me to get up, shook my hand then asked me to sit next to him.
"The king asked me a couple of questions then we enjoyed 40 minutes of chat about soil science, soils in Thailand and soils globally."
The short presentation ended up leading the national TV news, and pictures of Professor Nortcliff and the king appearing on the front page of several of the following morning's newspapers and other Thai media.
The professor then took part in a documentary about the king's involvement in soil science on Thai television.
As well as his international role, Professor Nortcliff, 64, is a former head of Soil Science in Reading. He first joined the University in 1978.
The University will be bathed in a British royal glow of its own next month when the Queen visits the University's Greenlands campus for Berkshire's official Jubilee celebration garden party.
ENDS
For more information, please contact Pete Castle at the University of Reading press office on 0118 378 7391 or p.castle@reading.ac.uk.
Notes to editors
The University of Reading is a leading institution for the study and research of geography and environmental sciences, including soil science, and is home to the Soil Research Centre, which examines how soil functions and interacts with its surroundings in both natural and human-impacted environments.