Festival of weather reigns in Reading this weekend
Release Date 28 May 2012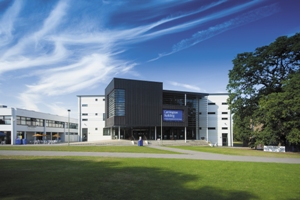 While Britain prays for blue skies for the Jubilee bank holiday this weekend, Reading will be celebrating the weather, rain or shine, in a colourful fusion of science and art.
The inaugural WAM (Weather, Art and Music) Festival, held in Reading town centre from Friday to Sunday (1-3 June), will provide a host of fun and cultural activities for the whole family, while highlighting the town as a leading world centre for weather and climate research.
As well as being home to the University of Reading, with its world-renowned Department of Meteorology and Walker Institute for Climate Research, Reading is home to the Royal Meteorological Society, the European Centre for Medium Range Weather Forecasting (ECMWF), and scientists from the Met Office.
WAM Festival director Pierrette Thomet said: "If talking about the weather is a British national obsession, for a large number of people in Reading, finding out about the weather and climate is more than that - it's a lifelong passion.
"The WAM Festival will be bursting with that passion and is packed with fascinating and fun events in a collision of science, art and music, the majority of which are absolutely free.
"We're looking forward to welcoming weather fans of all ages, people who are curious to know how their weather forecast is made, or just to learn more about how Reading is at the cutting edge of this crucial area of science and discovery."
And the WAM festival provides plenty to keep art and music fans happy, with weather-inspired installations and concerts. Among other events, visitors can:
Take part in the world's biggest ever 'human computer' to forecast the weather - the Forecast Factory (Concert Hall, Sunday, 10am and 2pm - FREE, no booking necessary, but tickets can be pre-booked from the Town Hall box office or call 0118 960 6060)
Enjoy a Jubilee picnic in the park, with singing and dancing displays (Forbury Gardens, Sunday, 12pm - FREE)
Come to a concert where music and science spark off each other to entertain and surprise you. With Reading mezzo soprano Pierrette Thomet and pianist Steven Faber and guest speaker, Royal Meteorological Society chief executive Professor Paul Hardaker (Victoria Hall, Friday, 7pm - tickets £20/£17 - book tickets)
Celebrate with University of Reading Chancellor, Sir John Madejski, and Vice-Chancellor, Sir David Bell, at a champagne gala recital featuring world-class soprano Alison Pearce, pianist Mark Packwood, and the Toki Quartet (Victoria Hall, Saturday, 7.30pm - tickets £12-£50 - book tickets).
Take part in a Weather Clinic, have their questions about the weather and climate change answered by leading meteorologists, try their hand at presenting the weather on TV, meet weather forecasters, and a whole range of other activities (Town Hall, Saturday, 10am-4pm - FREE. See Notes to Editors below for more information).
ENDS
For more details, or to organise interviews, contact Pete Castle at the University of Reading press office on 0118 378 7391 or p.castle@reading.ac.uk.
Notes to editors:
For more details, visit www.wamfest.co.uk, or follow WAM on Twitter @WAMfestival and by using #WAM.
Among other activities taking place at the Town Hall on Saturday, with most activities and events free and no booking required, visitors will be able to:
See a giant timeline showing Berkshire's weather patterns past and future
Hear music recitals and see displays of art inspired by the weather
Have your climate change questions answered by a leading panel of scientists at Climate Change Question Time
See how the weather was forecast in the 1500s by magi and astronomers using 'astrometeorology'
View the weather forecast that changed history - the chart predicting the weather for the D-Day landings in 1944 - and other Royal Meteorological Society archives
Contribute to a video diary about Reading weather for the National Archives
Take part in experiments, crafts, music, art workshops and installations, with activities for children and fascinating events for adults
The WAM Festival is being partnered and supported by Black Book Services, the University of Reading's Department of Meteorology, the European Centre for Medium-Range Weather Forecasts (ECMWF), the Met Office, Reading Borough Council, and the Royal Meteorological Society.
About the University of Reading
The University of Reading is ranked among the top 1% of universities in the world (THE World University Rankings 2011-12), is one of the top 20 UK universities for research funding, and has been voted by students as having the joint best campus environment in the UK.
The Department of Meteorology is internationally renowned for its excellent teaching and research in atmospheric, oceanic and climate science, and is the only UK university department to offer a full range of undergraduate and postgraduate courses in meteorology.
The University is also home to the Walker Institute for Climate System Research, a large grouping of scientists across several disciplines, aiming to be a world leader in integrated climate system research to deliver better understanding of future climate and its impacts for the benefit of society.