University of Reading named among UK's 'greenest universities'
Release Date 29 May 2012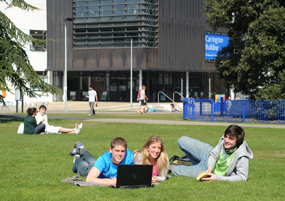 The University of Reading has been awarded an Upper Second Class Award and ranked 59 out of 145 in the People & Planet Green League 2012.
The People & Planet Green League assesses the environmental and ethical performance of all universities annually, awarding a degree class status, First Class and Upper Second to the greenest, down to Lower Second, Third and Fail.
Sir David Bell, Vice-Chancellor of the University of Reading, said: "I am delighted that the Green League Table has recognised the measures we have been taking to reduce our carbon footprint and improve our environmental performance. Our Carbon Management Plan commits the University to reducing its carbon footprint by 35% by 2015/16 and in the past 12 months we have cut our carbon usage by 10% in absolute terms¹.
"As an institution with a global reputation for research into tackling climate change, we are working hard to ensure our own environmental performance is as good as it can be and permeates all that we do. This includes everything from building new facilities through recycling our waste to the everyday behaviour of our staff and students. We are making good progress but there is much work to be done if we want to achieve a 'First' in years to come."
Denise Shearman, Head of Campus Services, University of Reading, said: "We have invested over £850,000 in projects to reduce our carbon footprint in the last year, such as making heating and lighting more responsive to building usage, insulation, installing 200 Photo Voltaic cells, improving lighting, upgrading our electricity substations, improving ventilation, improving measurement of energy consumption, energy awareness initiatives and developing a University travel plan.
"The range of awards we have received in the last year demonstrates the University's commitment to environmental sustainability. To meet the challenging target of a 35% reduction in our carbon footprint, we will need all our staff, students and visitors to play their part."
Green facts and figures on the University of Reading
Reduced carbon emissions by 10% in 2010/11 compared to our 2008/09 baseline
Awarded the Carbon Trust Standard for reducing CO2
Voted fourth best green space in the UK in the Green Flag Awards
Achieved a Silver EcoCampus award for work towards environmental sustainability
Decreased the total amount of waste by 7%, recycling 42% of all waste
Increased by 27% the total amount of glass recycled on campus
Introduced improvements to the bus service linking the University with Reading town centre, in conjunction with Reading Buses.
Carried out a full travel audit of staff and student travel patterns to support a new Travel Plan.
Installed over 200 Photo Voltaic cells on the Whiteknights Campus to reduce carbon footprint by 21,900 kilograms of CO2 per year
Energy consumption reduced by 16%
Introduced environmental procurement practises to ensure our suppliers work with us to reduce the carbon footprint related to the goods and services they supply to the University.
Reduced electricity consumption among staff and students by 8.4% through the Switch Off campaign
Achieved our first two B rated Display Energy Certificates for energy efficient buildings - Henley Business School and Carrington Building
The University of Reading achieved37 points in the Green League Table, 3 points short of achieving a 'First'. More information about the University's environmental performance and initiatives at http://www.reading.ac.uk/cleanandgreen/
ENDS
More information from University of Reading press office on 0118 378 7115/7391
More information on People and Planet Green League from Louise Hazan, People & Planet Green League Manager, People & Planet, 01865 264183 greenleague@peopleandplanet.org


Notes to Editors:
¹Relative to the 2008/9 baseline - includes reductions in use of liquid fuels, gas, vehicle usage, electricity consumption, business travel, water usage and waste.
The People & Planet Green League is the only comprehensive and independent league table of UK universities ranked by environmental and ethical performance. It is compiled annually by the UK's largest student campaigning network, People & Planet. http://peopleandplanet.org/greenleague. In 2012, the People & Planet Green League ranks 145 UK universities - awarding them a First, 2:1, 2:2, Third, or Fail - according to environmental policy, management and actual performance in areas such as carbon reduction, waste recycling, student engagement, green curriculum, energy efficiency, transport emissions, sustainable food, ethical procurement and water consumption. The ranking combines data obtained directly from universities through the Freedom of Information Act with Estates Management Statistics data obtained from the Higher Education Statistics Agency. Find out more: http://peopleandplanet.org/greenleague/methodology

The full results are published on 29 May in partnership with The Guardian and are available in full to other publications from 13:00hrs on 29 May. The results can be viewed at: http://peopleandplanet.org/greenleague

People & Planet is the largest UK student network campaigning to end world poverty, defend human rights and protect the environment. Find out more: http://peopleandplanet.org

A study by National Union of Students and Higher Education Academy to be published May 2012 reveals that almost 70% of 4000 First and Second years questioned either 'agree' or 'strongly agree' with the statement: "To what extent, if at all, do you agree that universities should be obliged to develop students' social and environmental skills as part of their courses?" Source: contact jagombar@nussl.co.uk for further details of this study
.